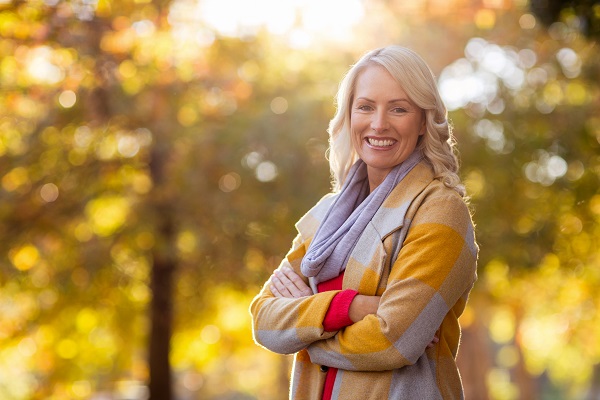 We're entering one of our favorite times of the year. No, not pumpkin spice season, although we do love a good pumpkin muffin. Fall marks the start of facelift season, one of the best times of the year to schedule your facial cosmetic procedures. Come in for a consultation and learn about your options for rejuvenating the face and neck in Chicago, IL.
Why is Fall Prime-Time for a Facelift?
We perform facelift surgeries year-round, achieving stunning, natural-looking results for our patients during every season. If we had to play favorites though and choose our favorite season for facelift surgery, fall would win hands down. Here's why:
Less Time in the Sun- Sunshine and fresh scars don't mix. Before your incisions fully mature, they are very susceptible to sun damage. Too much sun can cause new incisions to darken, sometimes permanently. Fall means more indoor activities for many of our patients and less time in the sun. This makes it easier to protect your new incisions from damaging UV rays. Less sun during recovery helps those scars to disappear.
Recover Before the Season's Big Events- Fall marks the start of the holiday season. Late in the season, our patients start enjoying family dinners and holiday parties. Look your best at these big events by scheduling your procedures now.
Cooler Temps = Comfortable Recovery- Plastic surgery recovery in the summer can be difficult. During the fall, enjoy comfortable weather and cooler temperatures. Recover in comfort!
Kids Are Back in School- If you are still caring for young children, back to school can make recovery easier. The kids are in class during the day, which means you won't need to arrange for alternate childcare during these hours.
Cover Incisions with Ease- Layers will become your best friend for hiding bandages and incisions while you heal from plastic surgery. During the fall a lightweight scarf can hide incisions nicely while you heal.
Come in for a consultation to discover the benefits of a fall facelift for yourself.
Other Top Procedures for Fall
Facelift surgery isn't the only procedure to consider this fall. Many of our cosmetic surgical treatments benefit from the cooler temperatures that this season provides. Other top plastic surgery procedures for fall include:
Eyelid Lift- A stunning complement to a facelift, our eyelid lift can wake up the appearance, restoring a youthful look to the upper and/or lower eyelids. This procedure is ideal for fall for the many of the same reasons as facelift surgery.
Neck Lift- Our neck lift can tighten loose skin and restore a youthful profile. We love pairing this with a facelift, making this the perfect complement to your fall facial procedures.
Breast Surgeries- Summer 2019 will be here before you know it. Get bikini ready with breast surgery. Sweater weather makes it easy to hide bandaging and swelling as you heal.
Liposuction- Tighten the tummy or ditch the double chin. Liposuction can shape and enhance your body this fall. Even better, swelling will be completely resolved in time for an early bikini season come spring.
Rhinoplasty- All facial surgeries are a good fit for fall as patients spend less time outside during this season. Rhinoplasty can reshape the nose and correct breathing difficulties.
Mommy Makeover- Restore the body after baby with a mommy makeover. Many of our patients schedule this procedure after the kids head back to school.
Schedule your fall procedures today by calling our Chicago office for a consultation. Bring on the pumpkin spice and perfect plastic surgery weather. We are excited for fall!