Following a healthy lifestyle can help you maintain your ideal weight. But even when you consume a proper diet and perform regular exercise, you may still retain some fat that is difficult to lose. With liposuction in Chicago, IL, you can permanently remove these stubborn areas of fat to achieve the toned silhouette that you deserve.
At Concierge Aesthetics and Plastic Surgery, board-certified plastic surgeon Dr. Andrea Martin's specialized experience in body contouring helps her patients address a variety of aesthetic concerns with remarkable results. With her expertise in performing liposuction, Dr. Martin empowers you to get rid of hard-to-lose fat, enhance your figure, and strengthen your self-confidence through a safe and effective approach. With her focus on personalizing treatments and optimizing outcomes, Dr. Martin also provides you with a liposuction plan that specifically addresses your most-pressing concerns.
To explore how liposuction can help you embrace a more sculpted form, schedule your consultation online or call us at (847) 205-1680.
What Is Liposuction?
Liposuction is a surgical body contouring procedure that removes fat from various areas of the body. Through this approach, liposuction treats stubborn fat that does not respond to traditional methods of weight loss, such as diet and exercise, to provide you with a slimmer, sleeker, and more toned physique.
Liposuction is a versatile treatment that can help remove fat from the following areas:
Face
Chin and neck
Arms
Chest
Back
Abdomen
Hips
Buttocks
Thighs
Knees
Calves
Ankles
With liposuction, you can treat your areas of concern to obtain a more defined and sculpted appearance. If you have unwanted fat in multiple areas, you can address these areas during a single surgery to maximize your results and reduce your overall recovery time.
It is important to understand that liposuction is not a weight loss procedure. Instead, its aim is to help you tone and contour your areas of concern by removing excess stubborn fat, especially following major physical changes like a large weight loss or pregnancy.
To help you reap the rewards of liposuction in Chicago, IL, Dr. Martin listens to understand your goals during a detailed consultation. After determining if liposuction can help you achieve the results that you want for your figure, Dr. Martin will devise a personalized treatment plan to help you remove excess fat from all areas that concern you. This way, Dr. Martin ensures that you can get the most out of your treatment while prioritizing your satisfaction.
What Are the Benefits of Liposuction?
During your initial appointment with Dr. Martin, she will address all of the areas that concern you and will review how liposuction can help you achieve your aesthetic goals.
Liposuction provides you with a range of benefits that include but are not limited to the following:  
Targeted Removal of Stubborn Fat
Stubborn fat that does not go away, despite diet and exercise, can be frustrating. Liposuction removes this fat from targeted areas.
Permanent Elimination of Fat Cells
During liposuction, your plastic surgeon permanently removes excess fat targeted during the procedure.
Long-Lasting Results
 If you maintain your stable weight after the procedure with a healthy lifestyle, the remaining fat cells in your treatment area may not increase in size again.
Contoured Figure
When excess fat is removed from your body, you can obtain a sleeker, slimmer and more toned appearance in the treatment area. This not only enhances your contours but also allows you to flaunt more prominent muscle definition in many cases.
Treatment of Multiple Areas
Liposuction is a highly versatile procedure that can be used to address multiple areas of your body. If you are concerned about excess fat across various sites of your figure, liposuction can help you redefine the look of each area for a more toned and more proportionate overall appearance.
Complements Other Procedures
Liposuction delivers fantastic results on its own, but it also works well with other body contouring procedures. For instance, if you want to treat the presence of excess fat along with sagging skin on your abdomen, you can pair your liposuction with a tummy tuck. Due to this reason, liposuction is an important part of a mommy makeover, a combination of procedures to rejuvenate your figure after pregnancy and childbirth.
Confidence Boost
Having bulging excess fat in various areas of your body can take a toll on your self-image and confidence, which can result in significant emotional stress.  By contouring your body with liposuction, you can feel more confident in your own skin to wear whichever styles of clothing you desire.
High Safety Profile
When performed by a qualified plastic surgeon, liposuction remains a highly safe procedure with minimal side effects and complications. Safety and effectiveness are some of the many reasons liposuction is known as one of the most popular body contouring procedures.
How Is Liposuction Performed?
Liposuction is performed either under local or general anesthesia. If you opt to receive local anesthesia, your treatment site is numbed using fluid that contains numbing medication. If you are more comfortable with general anesthesia, you can sleep through the surgery. During your consultation, Dr. Martin will help you determine which option is more suitable for your personal comfort.
On the day of your liposuction, you will arrive at Concierge Aesthetics and Plastic Surgery's facility. Known as Northbrook Plastic Surgery, it is a highly-equipped, modern, and safe surgical facility that is fully accredited by The American Association for Accreditation of Ambulatory Surgical Facilities (AAAASF).
Our team at Concierge Aesthetics and Plastic Surgery will help you get ready for the surgery. Afterwards, you will be moved to a sterile operating room, and your chosen form of anesthesia will be administered prior to beginning the procedure.
From there, Dr. Martin takes specific steps that include:
Marking the surgical site for incisions
Making these small incisions in the skin
Infiltrating the treatment areas with numbing fluid
Inserting a surgical tube called a cannula through the incisions
Using a specialized suction with the cannula to extract excess fat
Inspecting and palpating the areas to ensure the best outcome
Skin or tissue tightening device use, in select patients
Following your liposuction procedure, you will then go through the initial recovery process in a comfortable recovery room. If you choose general anesthesia as your desired form of anesthetic, you wake up in this room as well, with the process typically taking about an hour.
Liposuction is an outpatient procedure that does not require you to stay overnight at the surgical facility. You will need to arrange for a trusted adult to drive you home and stay with you for at least 24 hours after your surgery.
While the overall procedure for performing liposuction remains the same, your surgery might have some additional steps involved if you combine it with other procedures, such as those in a mommy makeover. Depending upon your personalized treatment plan, Dr. Martin will give you a breakdown of the steps that she will perform during your specific surgery.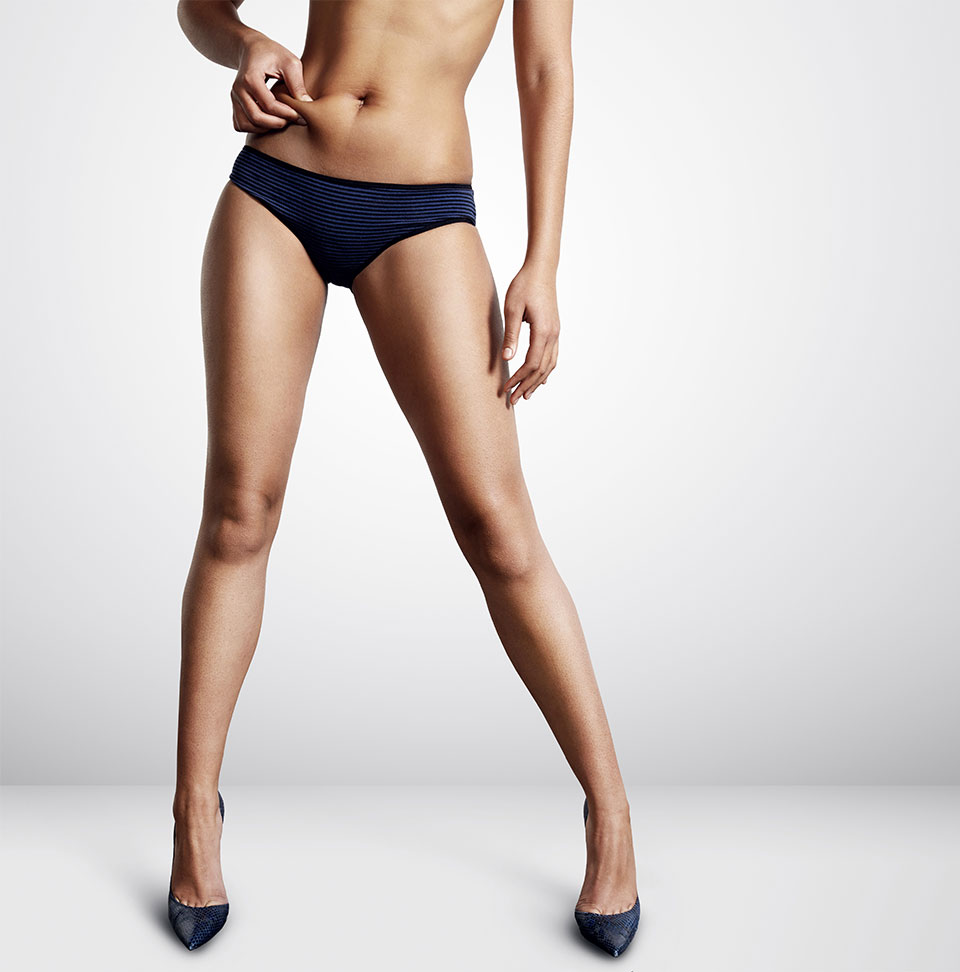 Who Is a Good Candidate for Liposuction?
A good candidate for liposuction:
Has stubborn fat around their body
Is within 30 percent of their ideal body weight
Has good skin elasticity (minimal or no stretch marks)
Is in overall good health
Does not smoke or can quit smoking 6 weeks before and after the surgery
Has realistic expectations from the surgery
While these attributes highlight the general profile of a suitable candidate for liposuction, it is important that you have a personalized consultation from a qualified plastic surgeon. When you discuss your plans for liposuction with board-certified plastic surgeon Dr. Martin, you will receive precise advice about your eligibility for the surgery. For instance, if your skin has lost much of its elasticity around the abdominal area, Dr. Martin can combine your liposuction with a tummy tuck to help you benefit from both procedures.
What Does Liposuction Recovery Look Like?
Like other surgeries, liposuction recovery looks different for everyone. While some patients may recover faster after their surgery, others might need more time.
Typical recovery from liposuction may involve side effects, including pain, bruising, and swelling around the surgical site. To help alleviate post-operative pain, Dr. Martin may prescribe medication. To ensure that you can manage bruising and swelling, Dr. Martin provides you with a list of aftercare instructions to follow at home.
Typically, you may resume light duties  2 weeks after your surgery. By this time, most of your pain may have resolved, but you might still have some bruising and swelling around the treatment area.
In most cases, you can resume more physically demanding activities like strenuous exercise at 4 weeks after liposuction. It might take 3 to 4 months until the swelling in your treatment area completely resolves. During this period, you can continue following post-operative instructions, such as wearing compression garments, to manage swelling.
To assist you with your recovery after liposuction,  you will have follow-up appointments with Dr. Martin after your surgery. During these follow-up visits, Dr. Martin will assess if your recovery is going at an ideal pace and will provide personalized advice on aftercare and when you can resume normal activities. This insures that you recover from your liposuction with the utmost comfort and decreases chances of complications.
Explore Your Options for Liposuction in Chicago, IL
When performed by an experienced plastic surgeon, liposuction can deliver positively stunning results for your figure while prioritizing your safety. With the help of board-certified plastic surgeon Dr. Martin, you can rest assured that your liposuction will be performed by an experienced plastic surgeon who treats your aesthetic goals and personal safety as her priorities during your treatment.
To see how liposuction can help you achieve a sleeker figure, schedule a consultation with us by calling (847) 205-1680 today.
Frequently Asked Questions
What is the cost of liposuction in Chicago, IL?
The cost for your liposuction depends upon various factors, such as the areas that you want to treat through the procedure. After your initial consultation, Dr. Martin and our team at Concierge Aesthetics and Plastic Surgery will provide you with a detailed breakdown of costs to help you make an informed decision about your liposuction.
Is liposuction Safe?
Liposuction has been proven to be one of the safest cosmetic surgical procedures when performed by the right surgeon and on the right patient. Of course, with any type of major surgery there is always a some risk of complication. The best way to reduce this risk is to choose your surgeon wisely and then surgeon's instructions for recovery.
How long does it take to recover from liposuction?
Oftentimes, Liposuction is performed as an outpatient procedure, meaning you get to recover in the privacy and comfort of your own home. In general, the recovery period is rather quick, with most patients that do not have physically demanding jobs returning to work within one to two weeks. Patient should expect bruising, swelling, and soreness to last a little bit longer. You should not lift or take part in any type of strenuous activity until you have been permitted to do so by your doctor. Usually, that is around 3 weeks.
Can liposuction help with weight loss?
Liposuction is not a weight loss procedure. Instead, it is a body contouring surgery that helps remove unwanted fat that you cannot lose via diet or exercise.
Do you need a tummy tuck with liposuction?
If your skin has good elasticity, you may not need a tummy tuck to remove sagging skin that results from fat removal around the abdominal area. But if your skin is naturally lax or if you need to remove a significant amount of fat cells through liposuction, you may need to combine it with a tummy tuck to eliminate loose skin and obtain a more contoured abdominal profile.
After your initial consultation, Dr. Martin can help you determine if you can reach your aesthetic goals via liposuction alone or if you need to combine it with tummy tuck.
Does liposuction cause pain?
During the liposuction procedure itself, you will not feel any pain due to the use of anesthesia.  Like any surgery, you will feel some pain around the treatment site after your procedure.
Dr. Martin can help you alleviate this post-operative pain through medications. The pain also subsides in a few days, at which point you can stop taking pain-relieving medications.
When can you exercise after liposuction?
While you can resume most normal activities a few days after your liposuction, you need to avoid heavy exercise for typically 2 to 4 weeks after the procedure. This not only keeps excessive bruising and swelling at bay, but also lets you recover optimally.
During your follow-up visits, Dr. Martin can help you determine how soon you can resume strenuous exercise according to your pace of recovery.