What is a Rhytidectomy (Facelift)?
A rhytidectomy (commonly referred to as a facelift) cannot stop the aging process. It can, however, improve the visible signs of aging by providing an overall lift to the lower two-thirds of your face by tightening loose skin in the jowls, neck and jaw line. Because a facelift in Chicago does not eliminate wrinkles on the forehead or the crow's feet or bags under the eyes, it can be combined with a brow lift and/or eyelid surgery to complement your results.  A facelift is often combined with fat grafting and skin resurfacing to obtain complete facial rejuvenation. Dr. Epstein performs facelift surgery to patients in Chicago or surrounding areas of Evanston and Buffalo Grove, IL.  He is considered a top surgeon in the area having performed many facelift surgeries over many years.
How is a Facelift performed?
Rhytidectomy is an outpatient surgical procedure performed at our facility in the Chicago area. There are many different ways to approach a facelift, depending on your facial structure and the technique that Dr. Epstein chooses to use. For a facelift, incisions typically begin above the hairline at the temples, extend in a natural line in front of the ear, and continue behind the earlobe to the lower scalp. The skin is separated from the fat and muscle below. The underlying muscles and connective tissue are tightened, the skin is pulled back, and the excess is removed. Stitches secure layers of tissue and close the incisions. Metal clips may be used on the scalp. Dr. Epstein performs many types of facelifts in Chicago, some of which leave minimal visible scars.  This procedure takes approximately two to four hours, depending on the extent of the facelift.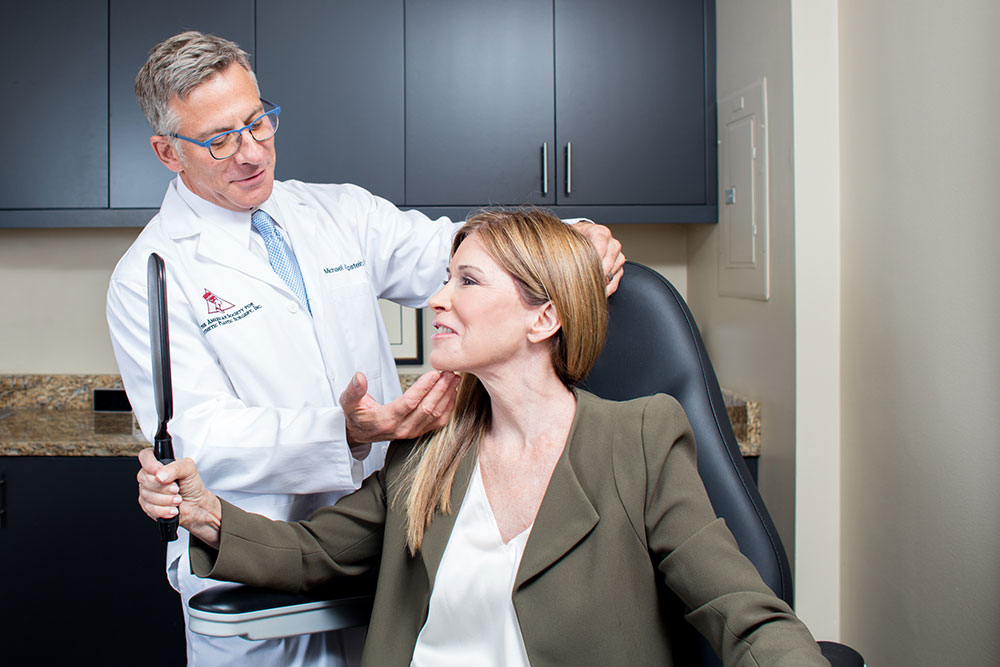 What to expect during the Facelift recovery period:
Bruising and swelling in the affected area are normal and are to be expected. These symptoms will fade within 1-2 weeks after surgery.
You may experience discomfort, which can be controlled with medication.
Sutures and/or staples will be removed 5-7 days after surgery, sometimes longer if necessary.
If a head garment is used, it should be worn 1-2 weeks after surgery.
Makeup can be applied after 2 weeks.
You should avoid direct sunlight for several weeks and use a good sunscreen.
You may return to light activity within a few days.
Full activity may resume 3-4 weeks after surgery.