When you feel young and vibrant, your looks should match. If a tired, aging appearance gazes back at you when you look in the mirror, it may be time to consider a facelift. This surgical facial rejuvenation procedure addresses common signs of aging in both men and women. It can take 5-10 years off your appearance, and in some cases even more, and offers long-term rejuvenation. MAE Plastic Surgery is a top provider of facelifts in the North Shore Chicago area and serves patients throughout the area including Evanston, Wheeling, and Northbrook. We invite you to our office for a one-on-one consultation to discuss your options for facial rejuvenation.
What is a Rhytidectomy (Facelift) in North Shore Chicago?
A rhytidectomy (commonly referred to as a facelift) cannot stop the aging process. Facelift surgery can, however, improve the visible signs of aging by providing an overall lift to the lower two-thirds of your face. This treatment accomplishes these goals by tightening and removing loose skin in the jowls, neck, and jawline. Because Chicago facelift surgery does not eliminate wrinkles on the forehead or the crow's feet or bags under the eyes, it can be combined with a brow lift and/or eyelid surgery to complement your results. This procedure is often paired with fat grafting and skin resurfacing to obtain complete facial rejuvenation.
Facelift surgery is one of the best ways to address aging in the lower face. Facelift procedures are ideal for men and women, typically between the ages of 40-60. Readiness for facelift surgery is determined by the extent of facial aging, not by age, so you may be ready for your procedure earlier or later than this typical treatment window. Come in for your consultation when you have moderate or advanced aging in the lower face. For minor aging, consider a non-surgical injectable treatment like BOTOX® instead.
Dr. Michael Epstein performs all facelift surgeries and most facial procedures at MAE Plastic Surgery, treating patients in North Shore Chicago and surrounding areas of Evanston and Buffalo Grove, IL.  He is considered one of the top plastic surgeons in the area having performed countless cosmetic surgical procedures throughout his long career as a board-certified plastic surgeon.
How is a Facelift performed?
Rhytidectomy is an outpatient surgical procedure performed at our surgical facility, Northbrook Plastic Surgery, located in the Chicago area. Our surgical center is fully accredited and equipped with state-of-the-art equipment. We use board-certified anesthesiologists and specially trained surgical staff to ensure that each patient receives the quality care that MAE Plastic Surgery is known for. Our facelift procedure is so popular that patients fly in from across the country to receive their surgery with Dr. Epstein.
There are many different ways to approach a facelift, depending on your facial structure and the technique that Dr. Epstein chooses to use. We'll talk in depth about the best techniques and available options for your procedure. Although we customize each procedure, the basic premise of a rhytidectomy is consistent for most patients.
You will first be carefully placed under general anesthesia by our board-certified anesthesiologist. Incisions typically begin above the hairline at the temples, extend in a natural line in front of the ear, and continue behind the earlobe to the lower scalp. These incision placements provide access to the skin, facial fat deposits, and supportive underlying tissues while minimizing the appearance of scarring. Most patients experience minimal scarring after they've fully healed from facelift surgery.
After the incisions are made, the skin is separated from the fat and muscle below. The underlying muscles and connective tissues are tightened, the skin is pulled back, and any excess is removed. Stitches secure layers of tissue and close the incisions. We often secure the scalp tissues with metal clips, as these are one of the most effective options for securing this difficult to suture skin. Finally, incisions are carefully dressed with protective bandaging.
This procedure takes approximately two to four hours, depending on the extent of the facelift. If you're pairing your procedure with other cosmetic treatments like a brow lift, your procedure may require additional time in the operating room. Many of our facelift patients return home the same day as their procedure, after a short rest in our recovery area.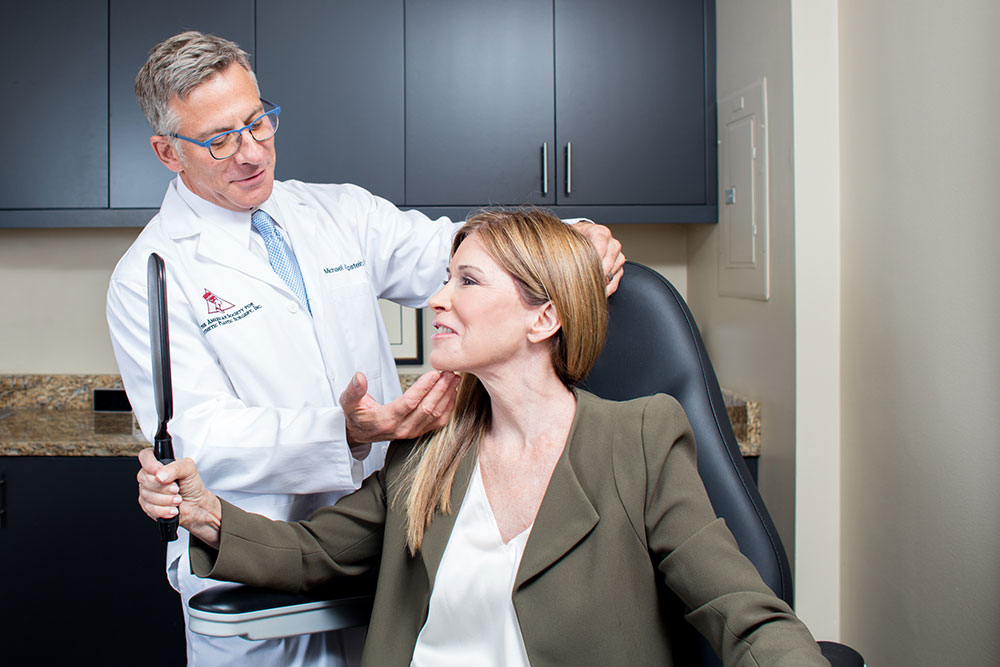 What to expect during the Facelift recovery period:
The first couple of days are typically the most difficult time during rhytidectomy recovery. You'll need to limit activities and arrange for help. Pain medications will help control any discomfort and rest is one of the best things you can do for your healing body. Dr. Epstein will schedule several follow-up visits after your surgery where he'll assess healing and answer questions.Bruising and swelling in the affected areas are normal and are to be expected. You may experience tenderness, numbness, and tingling on the face, especially along the incision lines. These symptoms will usually fade within 1-2 weeks after surgery.

Sutures and/or staples will be removed 5-7 days after surgery, sometimes longer if necessary.
If a head garment is used, it should be worn 1-2 weeks after surgery.
Makeup can be applied after 2 weeks.
You should avoid direct sunlight for several weeks and use a good sunscreen. This keeps your scars from permanently darkening. Invest in a wide brimmed hat you love and wear it when you're in the sun to protect your healing skin and incisions.
You may return to light activity within a few days.
Full activity may resume 3-4 weeks after surgery.
Most patients miss 2-3 weeks of work.

Recovery is challenging, but you'll find that it progresses quickly and that you'll feel a little better each day. After a few weeks of recovery, your fresh and rejuvenated appearance will be enjoyed for years and years.
Am I a Good Candidate for Facelift Surgery in Chicago, IL?
A facelift can transform and revitalize an aging face, but to achieve the best results, it is important to carefully determine candidacy. Dr. Epstein meets with each potential facial plastic surgery patient to discuss the procedure and the patient's goals. We'll talk in-depth about your health, medical history, goals for surgery, and lifestyle to ensure that we've found the best treatment option for you. If you're not a good candidate for a facelift, we can recommend other treatment options that may work for you. If a facelift is your best option, we'll work together to plan and prepare for your surgery.
The best candidates for rhytidectomy surgery are typically:
In good health
Non-smokers or willing to quit before and after the surgery
Exhibiting moderate to advanced aging in the mid and lower face
Looking for a long-term solution to facial aging
Willing to commit to the recovery process and able to take 2-3 weeks off from work
If this sounds like you, we would love to talk. Call MAE Plastic Surgery at 847-205-1680 to schedule a consultation at our beautiful Northbrook location. A consultation is not a commitment for surgery, but an opportunity to explore and discover options with a board-certified plastic surgeon. We look forward to meeting with you soon and helping you learn more about facelift surgery in Chicago, IL.
Chicago Facelift Surgery Frequently Asked Questions (FAQs)
Will I have scars after a facelift?
Incisions are needed to remove skin and tighten supportive facial tissues to create the vibrant rejuvenation provided by a facelift. Dr. Epstein places these incisions in discreet, hard-to-spot locations. For a traditional facelift, incisions are typically placed in the hairline, behind the ears, and under the chin (if needed). At first, incision scars may be red or dark, but over time they fade until they are similar in color to skin tone.
How long do facelift results last?
A facelift will refresh your facial appearance, and since this procedure tightens the skin and supportive tissues, it resets the aging process. Aging continues, but patients will always look younger than they would have without surgery because of the permanent removal of excess skin and the repositioning of underlying soft tissue in a more youthful position.
Why should I choose MAE Plastic Surgery for my facelift in Chicago?
If you're considering a facelift in the Chicago area, come to MAE Plastic Surgery to see board-certified plastic surgeon, Michael A. Epstein.   Dr. Epstein has 30 years of experience and specializes in facial procedures.   He has performed countless successful facelifts on men and women.  He and his whole team at MAE Plastic Surgery are dedicated to creating exceptional aesthetic results.
Am I too young for a facelift?
The best age for a facelift will depend on your unique aging process. While facelifts are typically performed on patients in their 50s and 60s, Dr. Epstein has performed this procedure on older and younger patients. A facelift creates the most dramatic results when moderate aging is present. If you're not ready for a surgical facelift, MAE Plastic Surgery offers non-surgical facial rejuvenation procedures that can also refresh your appearance. Dermal fillers,  BOTOX® , and a plethora of minimally invasive procedures are some of the options for patients that want to delay facelift surgery.
How much does a facelift cost in Chicago?
Customized treatment plans are part of the MAE Plastic Surgery difference. We provide quotes during our consultation appointments to ensure you receive accurate pricing information for your specific needs.
How can I extend the results of my facelift?
A facelift offers long-lasting results that can refresh your appearance for years after surgery. Maintain your results by taking good care of your skin. Use sunscreen daily to reduce UV exposure and premature aging. In-office treatments at MAE Plastic Surgery, including a chemical peel or laser treatment, can extend and enhance the results of your facelift.
Can I add a neck lift surgery to my facelift?
While facelift surgery treats sagging skin and tissues of the lower face, a neck lift creates a smoother, more refined neck and chin. Depending on your goals, appearance, and overall health, a combination procedure may be right for you. Patients often decide to pair each procedure to rejuvenate both the face and neck simultaneously.