Mommy Makeover
Along with the joys of motherhood, pregnancy and breastfeeding can also bring certain changes for your body. Postpartum effects can include sagging, deflated breasts, loose abdominal skin, stubborn fat, and weak core muscles. You can feel like you have completely lost your pre-baby body!
With a mommy makeover by Dr. Andrea Martin in Chicago, IL, you can restore your pre-pregnancy silhouette and your confidence. Through a set of effective and safe procedures, a mommy makeover can help you achieve remarkable results that target your specific concerns, including addressing sagging breasts, removing excess abdominal skin, and eliminating excess fat.
At Concierge Aesthetics and Plastic Surgery, board certified plastic surgeon Dr. Andrea Martin specializes in performing body contouring procedures for women, helping them attain their aesthetic and functional goals. With Dr. Martin's dedication to patient satisfaction, she also ensures that every patient gets a personalized treatment plan that leads them to their optimal outcome. This ensures that you get positively stunning results that suit your proportions, while also putting your safety front and center.
To see how a mommy makeover can help you enhance your post-pregnancy figure, schedule your consultation online or call us at (847) 205-1680.
What Is a Mommy Makeover?
Mommy makeover is a combination of surgical procedures that address  a variety of physical concerns that may appear after pregnancy and breastfeeding. With each  plastic surgery that may be included in a mommy makeover, you can restore and rejuvenate your appearance. A mommy makeover can also include abdominal muscle repair to address core muscle weakness, which can help alleviate and prevent issues with postpartum urinary incontinence and back pain. 
While a mommy makeover comprises multiple procedures, the type of surgeries included depends upon your aesthetic goals, functional concerns, and personal comfort. Typically, a mommy makeover includes the following procedures.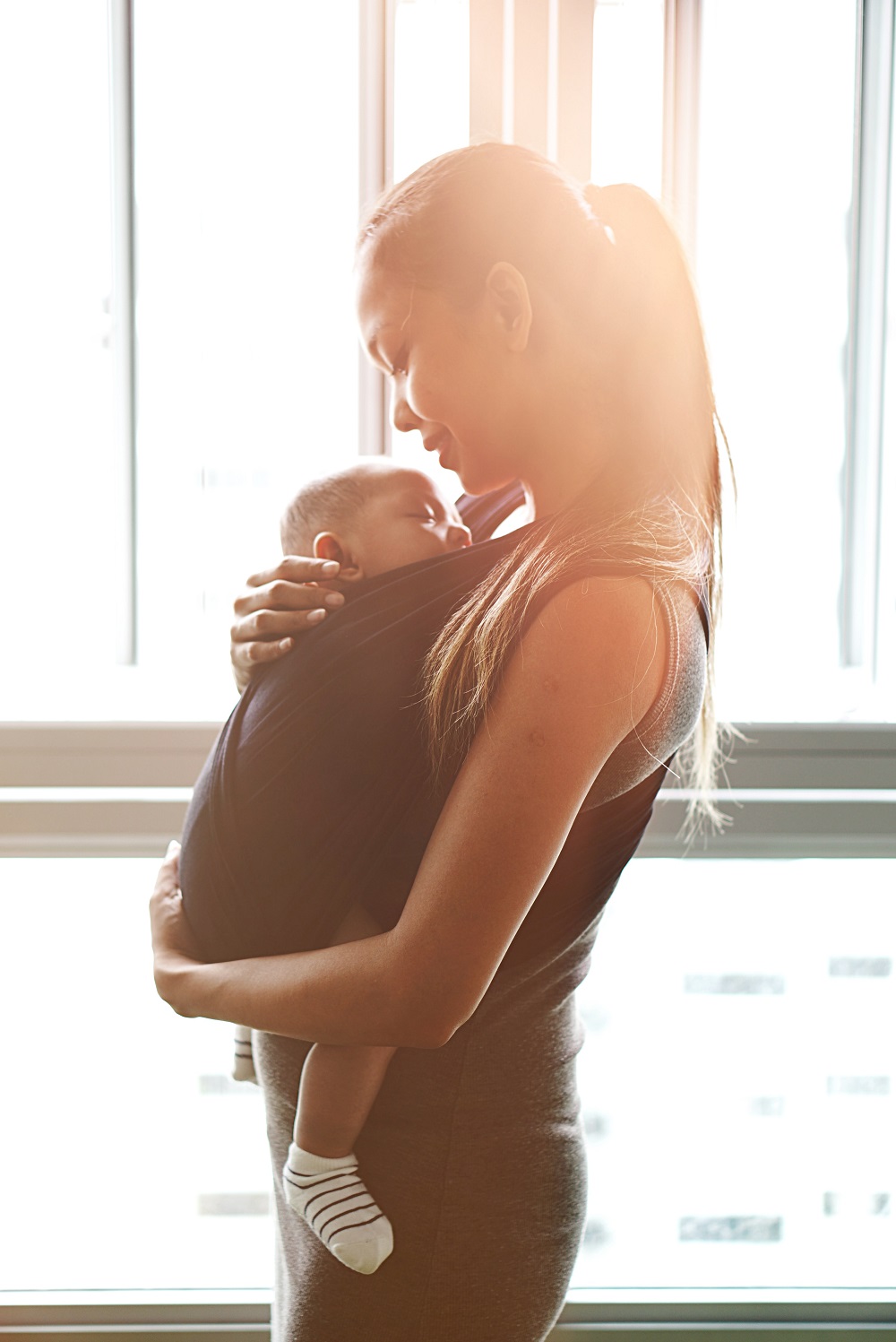 Breast Lift
With pregnancy and breastfeeding, you may experience remarkable fluctuations in your breast size. Such fluctuations can cause breasts to look saggy, deflated, and wrinkled. 
A breast lift, or mastopexy, can help resolve these concerns by  removing loose skin, eliminating excess tissue, and reshaping the breast tissue to a more desirable position. During a breast lift, your plastic surgeon can also reshape enlarged areolas and correct the position of drooping nipples to restore a perkier, lifted, and more youthful appearance. Sometimes a breast augmentation is combined (see below)  with a breast lift. 
Breast Augmentation
A breast augmentation can address  breast deflation and loss of breast fullness by delivering dramatic changes in the size and shape of your breasts with implants that are safely inserted under your breast tissue or chest muscles. When performed by a qualified plastic surgeon, breast augmentation provides you with stunning results for your breasts while retaining a natural look and feel to them.  It can also be combined with a breast lift at the same time. 
Liposuction
Pregnancy can result in weight gain and fat accumulation that can be difficult to get rid of afterward by diet and exercise alone. Liposuction can help by physically removing excess fat  in your various areas of concern. By permanently eliminating unwanted fat from sites, such as your abdomen, thighs, arms, and back, liposuction can help you attain a more contoured and toned figure with long-lasting results.
Tummy Tuck
Rapid weight fluctuations during pregnancy  can leave your abdominal skin loose and stretched out. Certain changes during pregnancy can also weaken your abdominal wall strength, which can contribute to issues such as urinary incontinence, back pain, and bad posture. Also known as an abdominoplasty, a tummy tuck helps  address these concerns by removing excess sagging skin and repairing separated abdominal muscles. This procedure gives your abdomen a tighter, more contoured look, while also helping to address issues that result from having a weak abdominal wall.
Labiaplasty
The labia can stretch and become enlarged during pregnancy and childbirth. An enlarged labia can then cause discomfort and inhibit sexual activity. As a result, some women include labiaplasty as part of their Mommy Makeover. Excess fatty tissue and/or loose skin are removed from the labia majora and/or labia minora to promote comfort and improve appearance.
Overview
All these procedures address different areas of concern, but they share the common goal of delivering positively stunning results for you, overall. When you combine these surgeries to target your specific areas of concern, you can achieve the type of figure that boosts your confidence and helps you feel more like yourself after your pregnancy.
To help you determine which procedures you should include as part of your mommy makeover in Chicago, IL, board-certified plastic surgeon Dr. Andrea Martin will have a detailed consultation with you. During this consultation, Dr. Martin will listen to understand your goals, perform a physical assessment, and advise you about the optimal surgeries for your aesthetic and functional concerns. From there, Dr. Martin creates a personalized treatment plan that will help you achieve the best outcome.
What Are The Benefits of Mommy Makeover?
A mommy makeover can provide you with many aesthetic and functional advantages that include:
Improving the appearance of sagging breasts

Enhancing the size and shape of your breasts

Repositioning drooping nipples

 Resizing enlarged areolae

Removing stubborn excess fat

Removing excess abdominal skin

Repairing abdominal wall muscles

Possibly improving functional concerns from poor core muscle strength, like urinary incontinence

Achieving a more toned and contoured figure

Improving your self-confidence

Reducing your recovery time by performing multiple surgeries at once
To help you determine how a mommy makeover in Chicago, IL can help you achieve your aesthetic goals, Dr. Martin will have a detailed discussion during your initial consultation, where she can answer any of the questions you have about the procedure.
How Is A Mommy Makeover Performed?
Since mommy makeover is a highly personalized procedure, the surgeries performed vary from patient to patient.
Before your surgery, Dr. Martin will describe how your mommy makeover is going to be performed with your personalized surgical plan.
The procedures in your mommy makeover are performed under general anesthesia. You will not feel any pain or discomfort during the surgery itself. 
At Concierge Aesthetics and Plastic Surgery's office, your mommy makeover is performed at the adjacent Northbrook Plastic Surgery Center, which is a safe and highly-equipped surgical facility that is fully accredited by The American Association for Accreditation of Ambulatory Surgical Facilities (AAAASF). When you arrive at Northbrook Plastic Surgery, our team will help you get comfortable before you transition to the operating room where a board certified anesthesiologist will begin administering anesthesia.
During a typical mommy makeover, Dr. Martin will perform the following actions.
Improve your breast contour by removing excess skin and tissue 

Enhance the shape and size of your breasts with breast implants

Contour your abdomen by eliminating lax skin

Repair abdominal muscles

Remove excess fat
Once your surgery is complete, you can go home the same day. Dr. Martin and our team will provide you with a detailed list of post-operative instructions to help you through your recovery after your mommy makeover in Chicago, IL.
Who Is A Good Candidate for a Mommy Makeover?
You might be a good candidate for a mommy makeover if:
You are not satisfied with your figure after pregnancy

You are unhappy with the appearance of your breasts

You have excessive  fat that does not respond to diet or exercise

You have loose skin that gives your abdomen a loose, wrinkled and sagging appearance

You are in overall good health

You have realistic expectations from the treatment

You gave birth at least

6 months

ago

You do not plan to have any children in the future
While this gives you a general idea about suitable candidates for a mommy makeover, you do not need to fulfill all the requirements to benefit from the procedure. After your initial consultation, Dr. Martin helps you determine if mommy makeover can assist you with accomplishing your specific aesthetic goals.
What Does Mommy Makeover Recovery Look Like?
While mommy makeover is a detailed procedure, the recovery process that follows is straightforward. With the help of Dr. Martin, her postoperative advice, and her recommendations during follow-up visits, you can rest assured you will have a safe, healthy recovery after the procedure.
After your mommy makeover, you can leave the surgical facility the same day and continue your recovery at home. While you are advised to take short walks  around your house as soon as possible, you should rest for the first couple of days and follow all the aftercare advice that is provided to you by Dr. Martin.
Common side effects of a mommy makeover may include pain, bruising, swelling, and discomfort. You may alleviate pain with medications prescribed to you by Dr. Martin, you can help manage your bruising, swelling, and resulting discomfort by wearing compression garments. Your pain usually subsides 1-2 weeks following your surgery, while your bruising and swelling will resolve in 2 to 3 weeks.
Typically, you may resume light activities 5 to 7 days after your mommy makeover. Depending on the extent of your procedure, it may take 1 to 2 weeks before you can resume work. During this period, your bruising and swelling may still be present, and you will need to continue wearing compression garments. 
After the first 4 to 6 weeks after your surgery, you may perform more physically strenuous activities, such as exercise. It may take approximately 3 to 6 months for your swelling to completely dissipate.
As you heal, Dr. Martin will keep a close watch on your pace of recovery with follow-up visits and will advise how soon you can resume certain activities.
Schedule Your Consultation for a Mommy Makeover in Chicago, IL
A mommy makeover is a highly detailed series of surgeries that calls for extensive skill and expertise from your surgeon. At Concierge Aesthetics and Plastic Surgery, board-certified plastic surgeon Dr. Andrea Martin wields the experience to perform your surgery with the required precision, while also treating your comfort, safety, and satisfaction as top priorities. This allows you to safely embrace a contoured figure and achieve the boost of confidence that you deserve.
To explore your options for mommy makeover, schedule a consultation with us by calling (847) 205-1680 today.
 Mommy Makeover FAQs
Am I a good candidate for Mommy Makeover surgery?
If you are in good overall health, are not currently pregnant or breastfeeding and have completed childbearing, you are most likely a good candidate for Mommy Makeover surgery. You can have children after a Mommy Makeover, however, if you are not finished with childbearing it is best to wait as your tissues will be stretched again with pregnancy. Additionally, the best way to determine your candidacy with certainty is to schedule a consultation with our Dr. Epstein.
Why is it beneficial to have multiple cosmetic procedures complete at one time?
With a Mommy Makeover, you will be combining more than one cosmetic surgical procedure at one time. This is beneficial financially as well as personally. Your fees will be reduced as the surgery will be completed at one time. In addition, the physical recovery toll on your body will also be completed once. You will also have the enjoyment of immediately seeing the overall cosmetic effect of your Mommy Makeover after surgery. Keep in mind, some combinations of surgeries will be able to be completed at once while some will need to be completed separately. During your consultation, our surgeons will best advise exactly what your specific plan will be based off of your aesthetic goals.
Should I lose weight before having a Mommy Makeover surgery?
You should be at or just slightly above your ideal bodyweight before having Mommy Makeover surgery as well as be at a weight that you can maintain after the procedure. Gaining or losing a substantial amount of weight following your surgery can diminish the final aesthetic results of your surgery.
Will I have scars from the procedure?
Yes, you will have scars following your Mommy Makeover. The most significant is the scar from tummy tuck (abdominoplasty) surgery if you are including that procedure in your overall Mommy Makeover. Our surgeons can advise you on how to best minimize the appearance of scars once your incisions are fully healed to help them fade over time.
What financing options do you offer?
If you are interested in financing for your Mommy Makeover, we offer Prosper HealthCare Lending and CareCredit. Please visit our Financing page for more information.
What is the cost of mommy makeover in Chicago, IL?
The cost for mommy makeover varies from patient to patient. Since it is a highly personalized procedure, you can only get a quote that directly addresses your concerns after having a detailed consultation with a qualified plastic surgeon.
After your initial consultation with Dr. Martin, our team at Concierge Aesthetics and Plastic Surgery outlines the costs for your mommy makeover according to the surgeries that are included in your plan. We have excellent sources for surgical financing if it is needed, including Care Credit and Patient Financing. 
How soon after giving birth can I get a mommy makeover? 
Your body needs time to heal from childbirth, so it is important that you wait at least 6 months after giving birth before getting a mommy makeover. You should also wait at least 6 months after finishing breastfeeding for any breast enhancement procedure. Healing is different for everyone, and some mothers may need more time for their postpartum recovery. Keeping this in mind, Dr. Martin makes sure to perform a detailed assessment during your initial consultation to advise if a mommy makeover is suitable for you.
How soon can I exercise after a mommy makeover? 
After your mommy makeover, you need to avoid strenuous exercise for 4 to 6 weeks to allow your body to heal from the surgery. During your follow-up visits after your mommy makeover, Dr. Martin will provide you with personalized advice on how soon you can get back to exercise.
How soon can I see results after my mommy makeover? 
While you can see immediate changes after your mommy makeover, it may take some time for postoperative swelling to subside. Typically, swelling around your treatment areas may take around 3 to 6 months to resolve, which is when you can see the full results of your mommy makeover. 
Can I have more children after a mommy makeover?
Expanding your family is a personal choice. However, the significant physical changes that stem from pregnancy, childbirth, and breastfeeding can affect the results that you have obtained from your mommy makeover. Due to this reason, it is recommended that you postpone your mommy makeover until after you are certain that you do not plan to become pregnant again.