Tummy Tuck (Abdominoplasty)
A toned and contoured abdomen enhances your figure and will work wonders for your self-confidence.  Factors like aging, genetics, pregnancy, and weight fluctuations can alter the naturally tightened form of your abdomen with wrinkled skin, weakened muscles, and unwanted fat. A tummy tuck can help you resolve these concerns to obtain a sleeker and stronger abdomen that helps boost your confidence!
At Concierge Aesthetics and Plastic Surgery at multiple locations around Chicago, IL, Board Certified plastic surgeon Dr. Andrea Martin uses her extensive skill, and experience to help you attain a tighter abdomen. Whether you plan to restore your figure after pregnancy or want to obtain a more defined silhouette post weight loss, Dr. Martin takes the time to understand your specific goals and devises a tummy tuck treatment plan unique to you.
With Dr. Martin's commitment to delivering optimal results for each patient, you can rest assured that your tummy tuck is performed by a surgeon who puts your safety and satisfaction front and center. To take the first step towards your ideal figure, schedule your consultation online or call us at (847) 205-1680.
What Is A Tummy Tuck?
Also called abdominoplasty, tummy tuck is a surgical procedure that can help you obtain a sleeker and more defined abdomen by permanently removing loose skin, eliminating stubborn pockets of fat, and resolving unwanted bulges around your abdominal area. When tummy tuck is performed with abdominal muscle repair, it can physically strengthen your abdomen to help correct the look of a protruding abdomen, while also resolving medical concerns caused by weakened muscles.
Tummy tuck can eliminate and readjust small pockets of excess fat around your abdomen. But if you want to treat a higher amount of unwanted fat across your abdomen, to treat additional excess fat of your abdomen, waist, flanks, or back (such as the "love handles") you can combine your abdominoplasty with liposuction. This adds to the ability of a tummy tuck to enhance your body's overall contour. 
Since a tummy tuck uses surgical techniques to physically remove excess skin and hard-to-lose fat, it  is a permanent solution that delivers long-lasting results. By adopting a healthy lifestyle after your tummy tuck, you can enjoy your results for years to come!
What Are The Benefits of a Tummy Tuck?
A tummy tuck can deliver various benefits that include but are not limited to:
Removing excess skin from your abdomen

Smoothing wrinkled skin across your abdomen

Eliminating stubborn fat from your abdomen

Sculpting the contours of your abdomen

Redefining the shape of your abdomen

Strengthening your  core muscles

Improving medical issues that stem from weakened muscles

Boosting your confidence and self-image
To help directly fulfill your goals, you will have a detailed consultation with Dr. Martin so she can  understand your concerns and discuss your expectations from the procedure. This helps her devise a personalized treatment plan that specifically addresses your concerns.
How Is a Tummy Tuck Performed in Chicago?
On the day of your abdominoplasty, you will arrive at Northbrook Plastic Surgery, which is Concierge Aesthetics and Plastic Surgery's state of the art surgical facility that is fully accredited by The American Association for Accreditation of Ambulatory Surgical Facilities (AAAASF). After our medical team helps you  prepare for the surgery, you will move to our operating room where  an anesthesiologist will administer general anesthesia to ensure that you remain comfortable and asleep during the procedure. 
Dr. Martin will begin your tummy tuck by precisely marking your abdomen for planned incisions. A tummy tuck incision is typically made transversely across your lower abdomen, between your groin and belly button, and an incision around your belly button. In some cases, Dr. Martin may not need to make a separate incision around your belly button. The size and position of your incisions are designed based on  Dr. Martin's assessment of how much excess skin you have and which approach will deliver optimal results for sculpting your abdomen.
Afterwards, Dr. Martin typically performs the following actions during your surgery:  
Lift your abdominal skin to expose your  abdominal wall tissue and  muscles

Carefully remove unwanted fat 

Correct abdominal muscle separation by pulling them together with sutures 

Re-drape your abdominal skin downward to tighten it 

Trim excess skin from your abdomen for a smoother appearance

Reposition your belly button to complement your redefined abdomen

Close the incisions with sutures
The procedure typically takes 2 to 3 hours, sometimes longer depending if you add liposuction or other procedures. Once your abdominoplasty is complete, you are moved to a comfortable recovery room where you wake up after your surgery with your dedicated post-op nurse. As tummy tuck is an outpatient procedure, you will not stay at the surgical facility. You can go home the same day by having a friend or family member drive you from the facility. For your recovery, you will need to have someone around to help you for several days.
It is important to understand that the process outlined above gives you a general idea about how your tummy tuck performed by Dr. Martin in Chicago, IL might be. The actual steps may vary from patient to patient due to each surgery being personalized for optimal outcomes.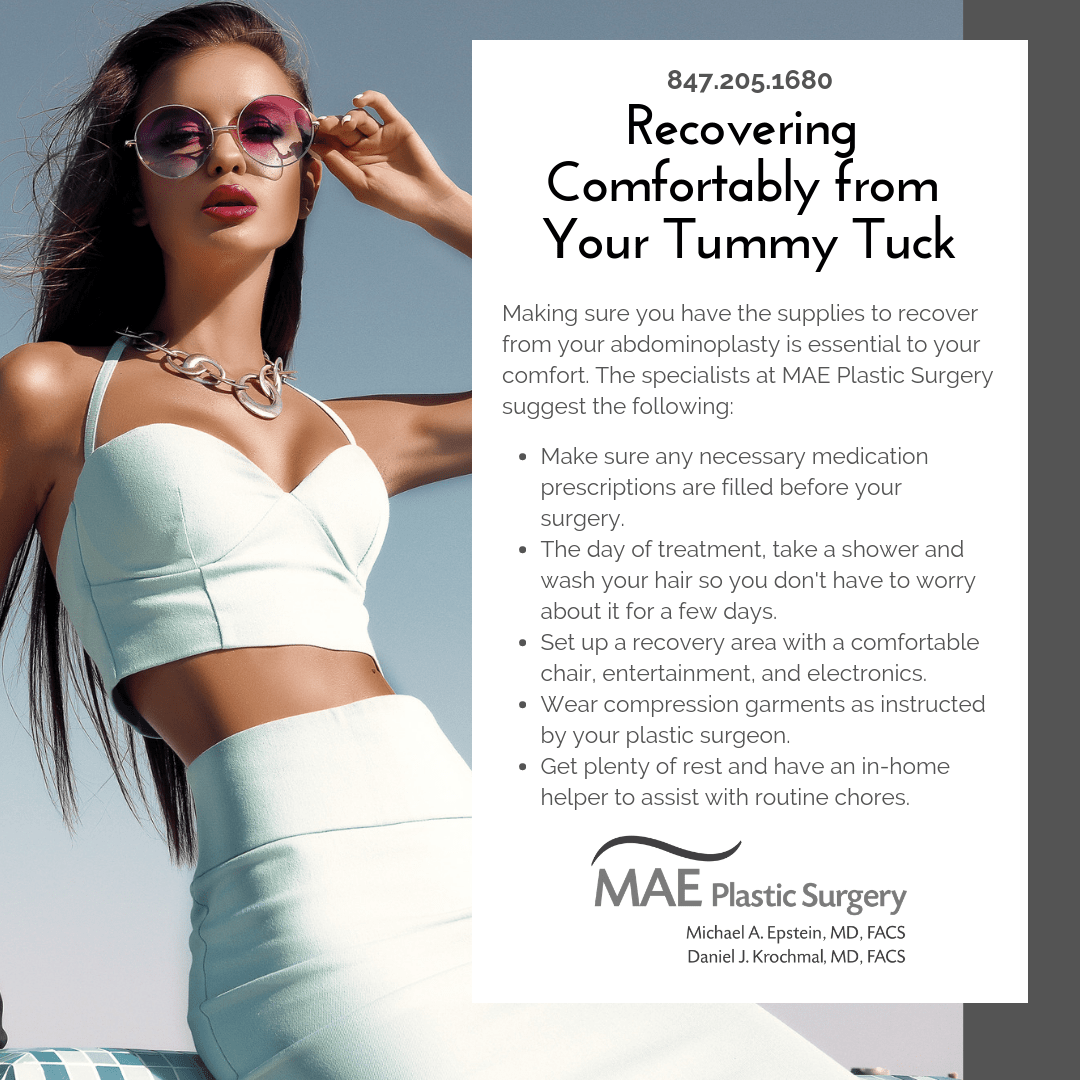 What to Expect During Tummy Tuck Recovery:
While you can go home the same day as your tummy tuck, you need to follow a few post-operative instructions provided to you by Dr. Martin and our team. By following these recommendations closely, you can manage side effects, prevent complications, and recover at an ideal pace.
For the first few days after your tummy tuck, you may still feel the effects of your anesthesia and will need to rest. During this period, you should have someone with you to help you with household activities, especially if you have children who need care. You will still need to walk  every 1-2 few hours to prevent blood clots after your surgery. You will be prescribed medications by Dr. Martin to manage your discomfort.
During your recovery, you will also feel swelling and bruising around your abdomen. These are common effects that occur due to your body's natural healing process. You may manage these effects by following Dr. Martin's instructions, such as wearing compression garments.
As each patient is different, the recovery time following abdominoplasty varies. Typically, you may resume work 2 weeks after your tummy tuck. At this point, you can resume most day-to-day activities except for those that are physically strenuous. Your pain and bruising may dissipate by this time. But you will need to continue wearing your compression garment for at least 6 weeks to minimize swelling.
In 6 weeks, you may gradually resume strenuous activities, such as regular exercise. You may continue to experience residual swelling for 3-6 months after your surgery.
During the recovery process, you will have multiple follow-up visits with Dr. Martin to check your incisions and your overall recovery.
Picking The Best Plastic Surgeon for Your Tummy Tuck in Chicago
In Chicago, an experienced and thoroughly trained plastic surgeon is of upmost importance in performing your tummy tuck surgery. They must have the right credentials and qualifications including: board-certification, education, and satisfied patients.
Research their standing in the Chicago medical community, as well as the various medical and surgical boards. The support staff should be considered as well, so you are comfortable with the entire staff. Are they friendly, compassionate, and professional?
Above all, meet with the plastic surgeon personally. Also, visit the facility where the surgery will be performed. Is it certified? Is it state-of-the-art? Your decision should not be rushed or hurried. Take your time to make the right choice!
Who Is A Good Candidate for a Tummy Tuck?
You might be a good candidate for a tummy tuck if:
You have excess or loose skin on your abdomen

You have stubborn bulges of fat around your abdomen

You have separated abdominal muscles

Your abdomen has a wrinkled and/or bulging appearance

You are close to your ideal weight

You are in overall good health

You have realistic expectations from the surgery

You do not smoke or can quit smoking at least 6 weeks before and after your surgery
During your tummy tuck consultation, Dr. Martin will discuss your aesthetic and functional concerns regarding your abdomen, aim to understand your goals about your appearance, and assess your medical history as well as your plans for being pregnant in the future, and perform a physical assessment to ensure a tummy tuck will help you achieve your goals. 
Embrace Your New Figure with a Tummy Tuck in Chicago, IL
Having a tummy tuck is a considerable personal investment that requires you to be confident, comfortable, and excited about your decision. By reaching out to board certified plastic surgeon Dr. Andrea Martin for your abdominoplasty, you can achieve your goals with the guidance and expertise of a qualified surgeon who prioritizes your satisfaction and safety above everything else. 
To redefine the look of your abdomen, schedule a consultation with us by calling (847) 205-1680 today.
Frequently Asked Questions About Abdominoplasty in Chicago
What is the cost of a tummy tuck in Chicago, IL? – The cost of your tummy tuck depends upon various factors, such as the required surgical techniques or combined procedures. After your initial consultation, our team at Concierge Aesthetics and Plastic Surgery can provide you with a detailed breakdown of costs associated with your personalized treatment plan.
Can I Combine My Tummy Tuck with Other Procedures? –

Tummy tuck can be combined with various other plastic surgeries to help you significantly redefine your figure. Besides

liposuction

for fat reduction, you can have your tummy tuck paired with procedures like

breast augmentation

and

breast lift

as part of a

mommy makeover

.

Is a Tummy Tuck Painful? –

Like other plastic surgeries, a tummy tuck can cause pain during the recovery process.   You will have prescription medications that will help with managing your pain. Most of the pain dissipates within 1-2 weeks after your surgery. However, you should not feel any pain during the surgery itself due to the use of anesthesia.

When Can I Return to Work? – Most patients miss about two weeks of normal activities after their tummy tuck surgeries. The amount of time you'll need to take off from your work will depend on your profession. If you work in a physically demanding position, you may need additional time off after your procedure.
How Long Will My Results Last? – A tummy tuck offers long-lasting results. To help maintain your new look, avoid pregnancy and large weight fluctuations as these can stretch the skin and negatively impact your results.
What Are the Side Effects of a Tummy Tuck? –

The most common side effects of tummy tuck include swelling, bruising, and soreness around the surgical site for a few days after your surgery. Following your plastic surgeon's advice can help you alleviate these side effects and improve your comfort during the recovery process.

How Soon Can I Exercise After a Tummy Tuck? – Typically, you can gradually resume heavy exercise 6 weeks following your tummy tuck. This recovery time helps you prevent excessive bruising and swelling, while also ensuring that your incisions are not subjected to excessive tension during the recovery period.