Anti-aging medicine and procedures to treat acne scars, stretch marks, or fat volume loss can all be provided non-surgically from our Chicago medspa. At MAE Plastic Surgery, Marta Kwiatkowska and Edyta Mitera are our in-house licensed aestheticians with over 35 years of experience, and Maureen Spahr and Mellisa are our nurse injectors. They are here for your cosmetic needs at our state-of-the-art, fully equipped facility.Our team helps patients look and feel their best with beauty-enhancing cosmetic services. Our menu of treatments has been carefully developed to provide the ultimate in aesthetic medical care.
Schedule a consultation with one of our providers today!
Medspa Skin Treatments
Beauty is more than skin deep, but it starts here. The challenge is to select the right treatment for the patient's unique skin conditions and concerns. Our aestheticians provide an array of beneficial and therapeutic skin treatments, including the following:
Chemical Peels
We offer multiple chemical peels at our medspa in Chicago. These have varied strengths and ingredients to achieve exceptional results for your skin and appearance.
Dermaplane
Dermaplaning is a non-invasive treatment that provides smooth skin, and it is excellent for removing peach fuzz, which can trap oil and dirt.
Facials
These highly customized facial skin services are effective in treating tired, listless skin depleted by pollution, age, and lifestyle.
Hydrafacial
Hydrafacial is an advanced skin rejuvenation system that combines multiple skin treatments to bring you the best results possible.
Microneedling
Microneedling uses the body's natural healing mechanisms to provide relief from the effects of aging, acne, and skin laxity.
Wrinkle Correction with Injectables
Dermal fillers and neuromodulators are effective at diminishing expression lines around the eyes, mouth and forehead. Our nurse injectors will perform these treatments to help you achieve smooth, firm, and youthful-looking skin.
BOTOX®
BOTOX® is the most popular cosmetic procedure globally. It is effective at diminishing dynamic wrinkles caused by smiling, squinting, and other facial expressions.
Dysport
Dysport results are like those of BOTOX®, but reports indicate that Dysport produces results quicker than its counterpart. BOTOX® and Dysport share similarities but are recommended for different concerns.
---
Check this out! Our awesome aestheticians, Marta and Edyta, were featured in "theYOUjournal." Read some of their "Winter Skincare Tips" below!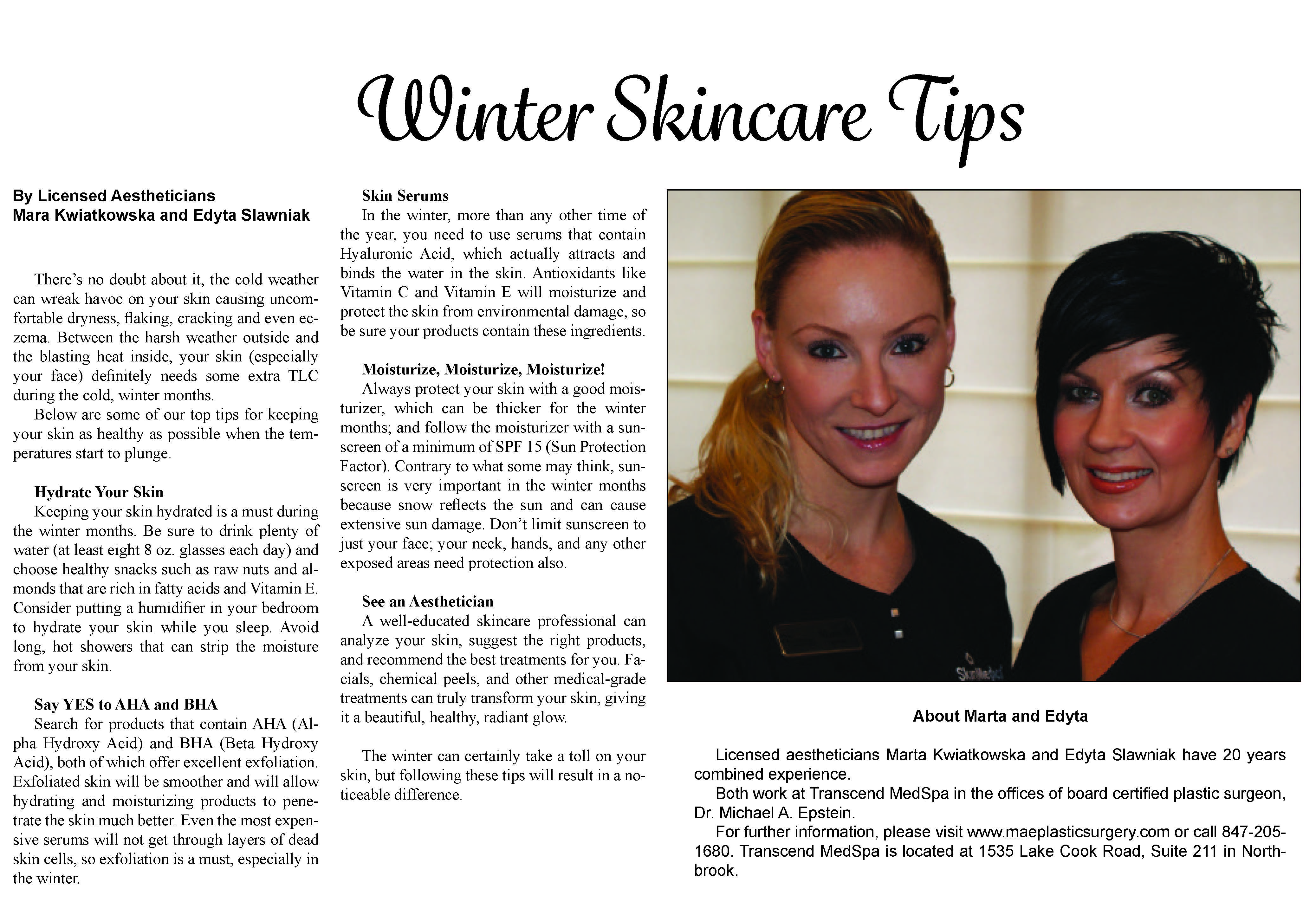 ---
Fat Reduction and Cellulite
Medical spa treatments can help reduce stubborn fat and unsightly cellulite that occurs for many patients, regardless of size. With these non-surgical treatments, you can enjoy smooth and beautiful skin texture
Body FX
This treatment offered at our Chicago medspa utilizes gentle suction, deep tissue heat, and radio frequency to reduce cellulite and improve your body contours. All these actions help to relax the tight bands below the skin's surface, which pull down tissue and create the appearance of dimpling.
Forma Plus
This procedure tightens and smooths the skin to reduce wrinkles and fine lines by using radio frequency waves. Forma Plus can be applied to any area of the body, covering larger treatment sites.
Lipodissolve
With this minimally invasive procedure, stubborn fat pads that reside in different parts of the body are broken down and dissolved.
Kybella®
This cutting-edge injectable is designed to eliminate excess fat around the chin and neck to reduce the appearance of a double chin.
Dermal Fillers
When underlying fat pads diminish and leave hollow voids in the face, this produces a tired and drawn appearance. Dermal fillers are designed to fill these voids and revive facial beauty.
Belotero
This hyaluronic acid injectable is a treatment that improves moderate to severe lines, such as nasolabial folds and vertical lines around the mouth.
Juvéderm®
Juvéderm® is a dermal filler that reduces the appearance of facial folds and wrinkles – including parenthetical folds along the nose and mouth – by replenishing the skin with healthy-looking volume.
Voluma
Our medspa offers the latest in aesthetic injectables, including Voluma XC! This amazing product is the first and only filler approved by the FDA to add volume to the cheek area.
Restylane®
Restylane® is a hyaluronic acid filler used to reduce or eliminate facial wrinkles and fine lines.
Restylane® Lyft
Restylane® Lyft is a dermal filler designed to restore youthful contours and replace lost volume to the face, but more particularly it is for injection into deep layers of the skin to treat severe wrinkles and lines.
Radiesse®
This treatment not only safely fills and corrects facial folds and smile lines, but it can also promote collagen regeneration.
Sculptra®
This unique injectable can also increase collagen production, and it softens facial lines and wrinkles for up to two years.
Laser Skin Rejuvenation and Hair Removal
Our Chicago medspa offers multiple laser treatment procedures that improve skin's tone, texture, and overall appearance by effectively treating underlying tissues and removing unwanted hair. Patients can choose from any of the following to achieve smooth, radiant skin:
Diolite
This procedure corrects pigment issues and vascular lesions, including freckles, age spots, and spider veins.
DOT
DOT Laser Therapy is an advanced treatment that smooths wrinkles and reverses the effects of sun damage and aged-skin. We are the only medspa on Chicago's north shore to offer this innovative procedure.
Diolaze
With this hair removal treatment, you can escape the discomfort and time-consuming process of waxing and shaving. The laser targets unwanted hair at the root, reducing and eliminating growth over time.
Fractora
Our medspa uses this fractional rejuvenation treatment to reduce wrinkles and enhance skin complexion and texture.
Lumecca
Lumecca is the most powerful intense pulsed light (IPL) you will find. It treats both vascular lesions and hyperpigmentation.