Chicago Breast Augmentation at MAE Plastic Surgery
Many women are unhappy with the size or shape of their breasts. If you're one of them, breast augmentation at MAE Plastic Surgery can help you achieve the shape you've always wanted. We have provided successful Chicago implant surgery for many years. Patients trust Dr. Michael Epstein to provide the latest techniques along with our individualized approach to patient care.
Schedule your consultation and learn more about how Dr. Michael Epstein can help you meet your body goals.
Are You a Candidate for Breast Augmentation? Find out at MAE Plastic Surgery
Choosing to have breast implant surgery is not a small decision. Part of the treatment planning process and determining your qualifications for treatment and what approach will work best for you. To determine if you are a candidate for breast implants, our team takes the following steps:
Consultation – When you go for your consultation, the surgeon will completely evaluate your body, including your bone structure, skin, and breast tissue in your chest area. The surgeon will need some additional skin to stretch out to accommodate your implants.
Health Evaluation – It's always important to let your plastic surgeon know about any pre-existing medical problems you have, especially if they are blood disorders or heart problems. Tell your surgeon about any medications you're taking to control your medical conditions. You won't be automatically ruled out of from having surgery just because you have a pre-existing condition, but the surgeon might need to use special procedures and precautions to eliminate risks during surgery.
Considering Habits – If you are a smoker, you will need to quit smoking for at least 1 month before the procedure. It's better if you stop smoking altogether. Smoking interferes with healing and may lead to long-term problems after surgery.
Motivation – The best motivation for getting breast implants is because you want them for yourself. If you are doing it for other reasons like someone pressuring you to do it or because you are down and think it will make you feel better, rethink the procedure. Deal with your issues first before you make a lifetime change to your body.
Doubts – If you have doubts about surgery, delay the procedure until you feel sure. This is a major decision that you shouldn't make spur of the moment. As with all surgeries, there is risk involved so it should be taken very seriously. This is also a life-changing procedure. Do you feel ready for the changes it brings? It's easier to change your mind before you have the surgery than it is later.
Schedule your consultation here to learn more about breast augmentation surgery in Chicago.
Why Do Women Seek Breast Augmentation?
According to the American Society of Plastic Surgeons, nearly 300,000 women have enhancement surgeries annually within the United States alone. There are many reasons why you might feel dissatisfied with your breasts. While this is often due to "macromastia," or disproportionately small breasts, deflation of the breast volume brought on by natural aging or size and shape changes that occur with pregnancy and breastfeeding can make women seek out surgical care.  Genetic asymmetry is also a driving motivator in seeking implants.   Depending on your specific case, you may need to combine your procedure with a lift to help raise or alter the shape breasts.
Most women choose saline or silicone breast implants to improve the appearance, but another method known as structural fat grafting may be used in certain circumstances. This technique uses your own body fat to achieve desired cup size.
The skilled team at our office can help you achieve your desired breast shape and size. Once they have fully recovered, our patients report feeling more confident about their appearances. Whatever your reason for wanting cosmetic breast enhancement, we welcome you for a one-on-one consultation at our office to discuss your procedure.
Schedule your consultation to learn more about breast surgery in Chicago.
Your Chicago Breast Implant Options
One of the decisions you will need to make during your cosmetic surgery journey is the kind of implant you would prefer. Now, more than ever, there are great options for creating safe and stunning outcomes for your breast augmentation procedure. All the implants we offer are approved by the FDA. During your consultation, Dr. Epstein will discuss the benefits and the risks associated with each type of breast implant.
It is important that you contribute to the consultation and conduct research on implant options to ensure you can make an educated decision. It is important that you and your surgeon are on the same page in relation to your aesthetic goals so that you can achieve the look you desire; your MAE surgeon will listen to you, make his recommendations based on your goals and body type. During your consultation, you can your doctor can review the benefits of the following breast implant types:
Saline Implants
Saline breast implants are filled with sterilized salt water solution. These implants are inserted while empty breasts and are filled with a solution of sterile salt water after placement. This allows for a smaller incision which reduces the size of scars. They are firmer to the touch, compared to silicone implants and are more cost-effective.
The FDA approves saline breast implants for patients above 18 years of age. While not substantiated, some feel that saline implants contribute to fewer health risks, in contrast to silicone. In the rare case of implant rupture, the leakage of solution into your body does not present any health risks, but it will lead to an almost immediate deflation, which can be corrected with treatment.
Silicone Implants
These breast implants feel the closest to your natural tissue. They are pre-filled with silicone gel and are available in several shapes and sizes. Since they are inserted already filled, they require a slightly larger incision than their saline counterparts. They tend to cost more than saline breast implants. Our doctor can determine if these implants are right for you, based on your body size and bone structure, such as the width of your breasts and chest wall.
Approved by the FDA for women above 22 years of age, silicone implants create a lower risk of skin rippling, as compared to saline implants. Form stable breast implants are known as "gummy bear" implants. The silicone is of a thicker than their first-generation counterparts, making them slightly firmer and less likely to rupture or ripple. They can also come in natural form shapes where there is more projection at the bottom and tapering at the top.
Breast Implants – Shape
Round and teardrop (anatomic) are the two basic shapes available for breast implants.
Round Breast Implants
Preferred by most plastic surgeons, round implants are easy to insert and have a lower revision rate. If the implant rotates after placement, overall aesthetics do not change.
Teardrop (Anatomic) Breast Implants
Teardrop implants have a natural shape and are popular with patients whose breasts have been affected by pregnancy, breastfeeding, or massive weight loss. Teardrop implants can also be textured to reduce rotation, which was the main problem with teardrop implants of the past.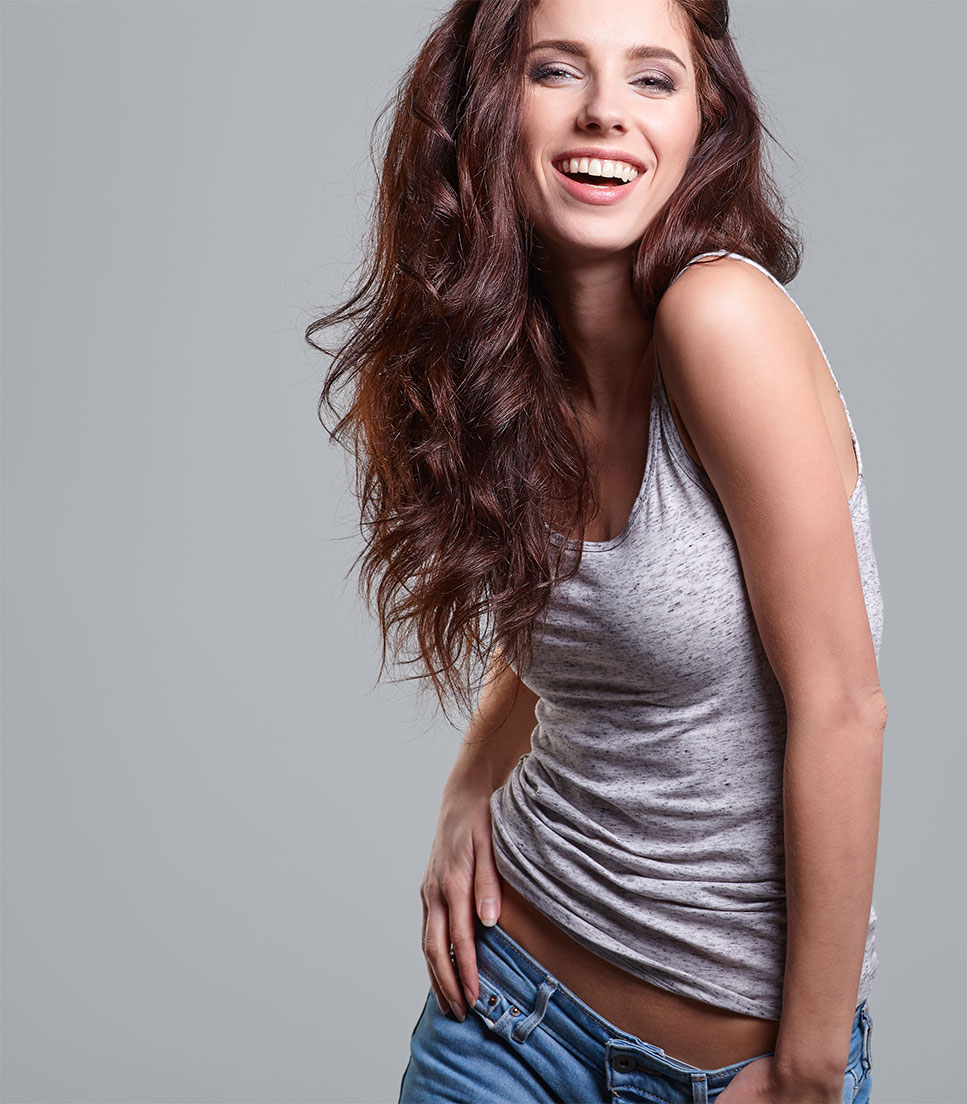 The Breast Augmentation Procedure
Treatment is usually an outpatient procedure that lasts no more than an hour. During surgery, incisions can be made (detailed below), according to your customized treatment plan. Our Chicago breast augmentation surgeon is careful to create and place the incisions in a way to minimize any visible scarring. During your procedure, you will choose between three different incision options to be used during surgery to get the implants into the breasts.
Inframammary Incision
This is the most common incision, especially for silicone implants. Our surgeon prefers this approach because there is a decreased risk of improper implant positioning, loss of nipple sensation, and capsular contracture. Since this incision has been used for decades in the U.S., overall complication risk is highly unlikely. The inframammary incision is made under the fold of the breast, where the scar is well-hidden.
Transaxillary Incision
This is the made under the armpit and is the least visible of all three incision types, ensuring there are no visible scars near your breasts. Often, your surgeon will use an endoscope with this method to view the breast pocket where the implant will be placed.
The endoscope also helps the surgeon visualize any blood vessels that need to be coagulated to aid in successful implant placement. Because the incision location is discreet it's easier to place a saline implant that is filled after insertion, versus a silicone gel implant.
Peri-Areolar Incision
This incision is made along the lower edge of the areolas. Due to the positioning on the edge of the darker skin, the incision is barely visible when healed. This approach may cause loss of nipple sensation and breastfeeding complications, which is why it needs to be carefully considered by the doctor and patient.
Both types of implants may be placed through an incision made below your breast (inframammary), an incision made through your armpit (trans-axillary), or an incision made along the edge of the areola (periareolar). Only saline-filled implants can be placed through the belly button (trans-umbilical, also known as TUBA).
Your MAE plastic surgeon will typically recommend the inframammary incision because it has a lower risk of internal scar formation. In some cases, a very large silicone gel implant can be difficult to place through a peri-areolar or trans-axillary approach and may result in a larger scar than if a saline-filled implant was used.
Implant Placement Options
There are two breast placement options for the surgeon to choose from: above the muscle (subglandular placement) or below the muscle (submuscular placement). During your consultation, we can discuss these options with you to choose the one that will work the best for your body. This will depend on your current breast shape and your desired results.
Subglandular Implant Placement
In this case, the implant is placed above the pectoral muscle, but below all the breast tissue. Since the implant is placed above the muscle tissue, the surgery and healing process is faster than submuscular placement.
This implant position can be used when a woman has enough breast tissue to cover the desired breast implant. It's also necessary to use this pocket for women who have a misshapen (tubular) breast.  Subglandular augmentation may not be recommended for women with naturally small breasts.
Submuscular Implant Placement
With this option, the implant is added under the pectoral muscle. This can be an advantage if you don't have enough natural breast tissue because it's better at camouflaging the implants for a more natural look.
Often, there is less rippling and fewer visible edges of the implant with this placement. The healing time, on the other hand, is slightly longer.
Breast Implants Recovery
You can expect soreness, swelling, bruising, and changes in nipple sensation for a short period. Most women return to normal activities in just a few days, although strenuous activities should be avoided for a few weeks. A support garment will be placed around the breasts to aid healing.
After several weeks, the breast implants will settle into place and soften. The final positioning of your new breasts may take up to three months.
For many women, the healing process after augmentation happens quickly. The recovery time for breast augmentation surgery varies from person to person but most women can begin some regular activities within 24 hours after surgery. However, like sports or exercise may need to be placed on hold for up to two weeks after surgery. Many women state that they experience soreness in their breast for several weeks.
After Surgery Instructions
It is important to follow the doctor's recommendations after surgery. Here are a few common recommendations you should follow:
Scar Treatment – Your surgeon will discuss the options available to improve scar appearance
Sleep – It is best to sleep on your back for at least one week after surgery.
Medication – Your doctor will prescribe you medication to help with the pain. Ensure that you are taking all medications as prescribed by a doctor.
Post-surgery appointments will be scheduled for follow-up care at prescribed intervals, so your progress can be evaluated.
Considerations
Women who have breast implants need to have regular mammograms performed just like women without implants. Occasionally, additional mammogram views may need to be done to image all the breast tissue.
Breastfeeding can normally be accomplished after having breast implants; however, it is impossible to predict how these implants will affect a mother's ability to breastfeed until she is ready to do so.  Dr. Epstein can offer a surgical technique that does not affect the breast tissue and therefore not interfere with the ability to breastfeed.
Breast implants generally maintain the size and shape of the breast but they do not stop the aging process. Changes in weight may also affect the results and at times additional procedures may be considered. Implants may need to be replaced if they break or leak.
Schedule your consultation to learn more about breast surgery in Chicago.
Breast Implant Removal & Revision
There are times when breast augmentation surgery may not be done correctly, or the healing process was complicated, or sometimes, an older breast implant needs replacing or a less than optimal breast implant was chosen. In these cases, a revision surgery may be necessary. MAE Plastic Surgery has extensive experience in breast implant removal and revision. Please watch the video below as Dr. Epstein walks you through a revision surgery.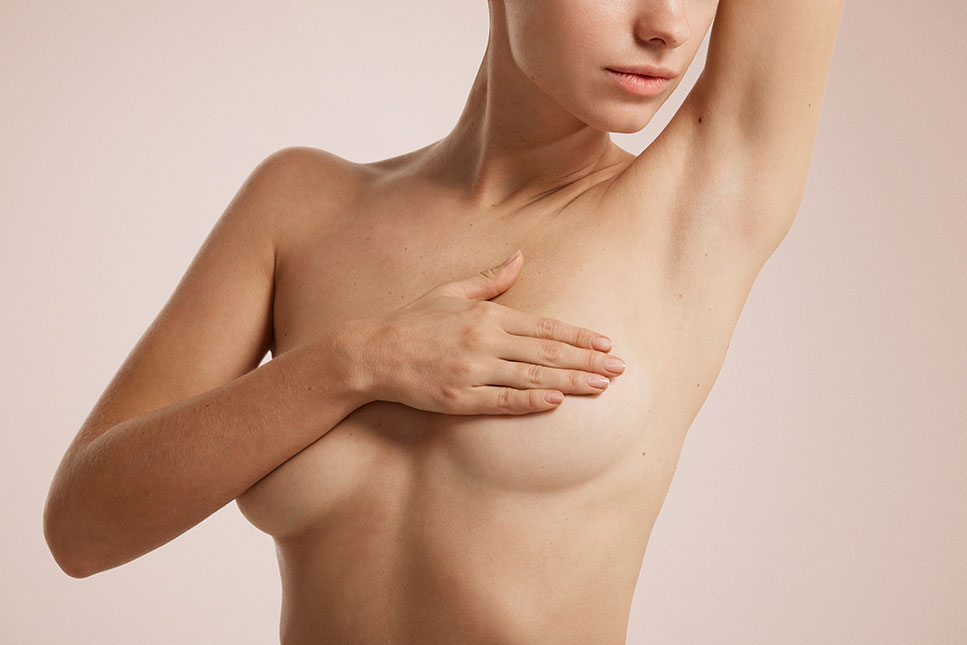 Breast Implant Breakage
Since no medical device is considered permanent, at some point the outer shell of a breast implant may break. This is unlikely to happen within the first ten years after placement, but may happen at any time. When a saline-filled implant breaks, the salt water inside is absorbed by the body and the breast returns to its original (smaller) size over a few days. The implant is then typically replaced by a new implant during a procedure that typically has little discomfort and a fast recovery. It is less clear when a silicone gel implant breaks; when it does, the breast typically does not become smaller. As an added assurance to patients, the breast implant manufacturers offer warranty programs in case the implants break. Current recommendations by the U.S. Food and Drug Administration (FDA) encourage women to have MRI examinations of their implants after 3 years and every 2 years thereafter to see if there is any break in the shell.
Why MAE Plastic Surgery for Chicago Breast Augmentation?
When it comes to considering a surgeon, you must be informed about their qualifications and experience. Is your surgeon board-certified? What is their level of experience? Where will the surgery take place? Is the support staff caring and professional?
Dr. Epstein is highly trained and experienced with breast implant surgery. They perform surgical procedures at our state-of-the-art, fully accredited surgical center in Northbrook along with a team of board-certified anesthesiologists to provide the highest standard of care.
Dear Dr. Epstein – As the anniversary of my surgery past in December, I just really wanted to say from the bottom of my heart how amazing you and your staff are. Thank you for changing my life in a way that no one could ever do. Not a day goes by where I don't stop to think about how blessed I am. You are my hero. ~ More reviews…
Our Fully Accredited Surgical Center for Chicago and Beyond – Dr. Epstein performs our surgical procedures at our state-of-the-art, fully accredited surgical center in Northbrook. Northbrook Plastic Surgery has a team of board-certified anesthesiologists to provide the highest standard of care and ensuring the safest and most comfortable experience in Chicago. Read more…