Tummy Tuck (Abdominoplasty)
You eat right and exercise faithfully. Your weight is close to ideal, but your belly still doesn't want to snap into the shape you want it to be in. Your jeans are a bit uncomfortable and you choose summer wear that can cover up your mid-section. You have done all you can do to get your stomach in shape, but now you need help.
Abdominoplasty is a plastic surgery procedure that removes stubborn fat deposits and excess skin from your tummy. It can tighten the abdominal wall as well, leaving you with a tighter, firmer, and more athletic looking mid-section.
A tummy tuck can:
Flatten the abdomen
Slim the waistline
Reduce cellulite
Remove and/or diminish stretch marks
If you live in Chicago or the surrounding areas and are looking to improve the contour of your mid-section, you should consider a tummy tuck procedure from MAE Plastic Surgery.  Patients visit us from the Greater Chicago area and beyond, including Highland Park and Evanston.
Your Tummy Tuck Consultation
Considering a tummy tuck in the Chicago area? Call 847-205-1680 for a consultation appointment. Your MAE plastic surgeon will discuss your decision for abdominoplasty, your expectations, and optimal results.  He will also perform a thorough physical examination and explain his recommendations.
You are encouraged to ask questions and state your concerns because your comments will have an impact on your procedure. You will not be rushed or ignored.
Before and after photos of patients with similar body types and similar concerns will be available. You will be apprised of all benefits as well as the risks associated with a tummy tuck surgery.
Your surgeon will inform you on preparation for surgery, and what you should know about the procedure as it relates to your unique body type. He will discuss your recovery as well. It is important that you and your surgeon are on the same page regarding the aesthetics and process of your surgery, as this will help with achieving your desired goals.
Are You a Good Candidate for a Tummy Tuck?
Patients in Chicago who consider abdominoplasty should be near their ideal weight, and should ideally be finished with childbearing. Stretching the abdominal muscles after a tummy tuck could have damaging effects to the results achieved from your procedure. Therefore, it is important to maintain a stable weight and wait until childbearing is finished before contemplating a tummy tuck. Other things to consider are:
You are healthy and relatively fit
Your expectations are realistic
You are a non-smoker
You are uncomfortable with unsightly excess skin and stubborn fat
You want a tight tummy again
How is an Abdominoplasty in Chicago performed?
Abdominoplasty is an outpatient surgical procedure performed under monitored anesthesia care at our facility in Northbrook. Every surgery is customized according to your unique body type. Your MAE plastic surgeon will fashion an incision that is of varying lengths, depending on the magnitude of the problem. The abdominal wall is pulled together and tightened with sutures.  Excess skin is cut away and stubborn fat deposits are removed with liposuction.
Liposuction is performed using a tube called a cannula, inserted through a small incision. The cannula is then attached to a suction device that carefully removes the fatty tissue, while sculpting the contours of fat layers and tissue.
The belly button may be repositioned, and the incisions are usually closed using dissolvable sutures. The shape and size of the incision will be determined by how much correction is necessary. This is usually dependent on the amount of loose skin that must be removed.
A tummy tuck procedure takes 2 to 3 hours, depending on the complexity of your surgery.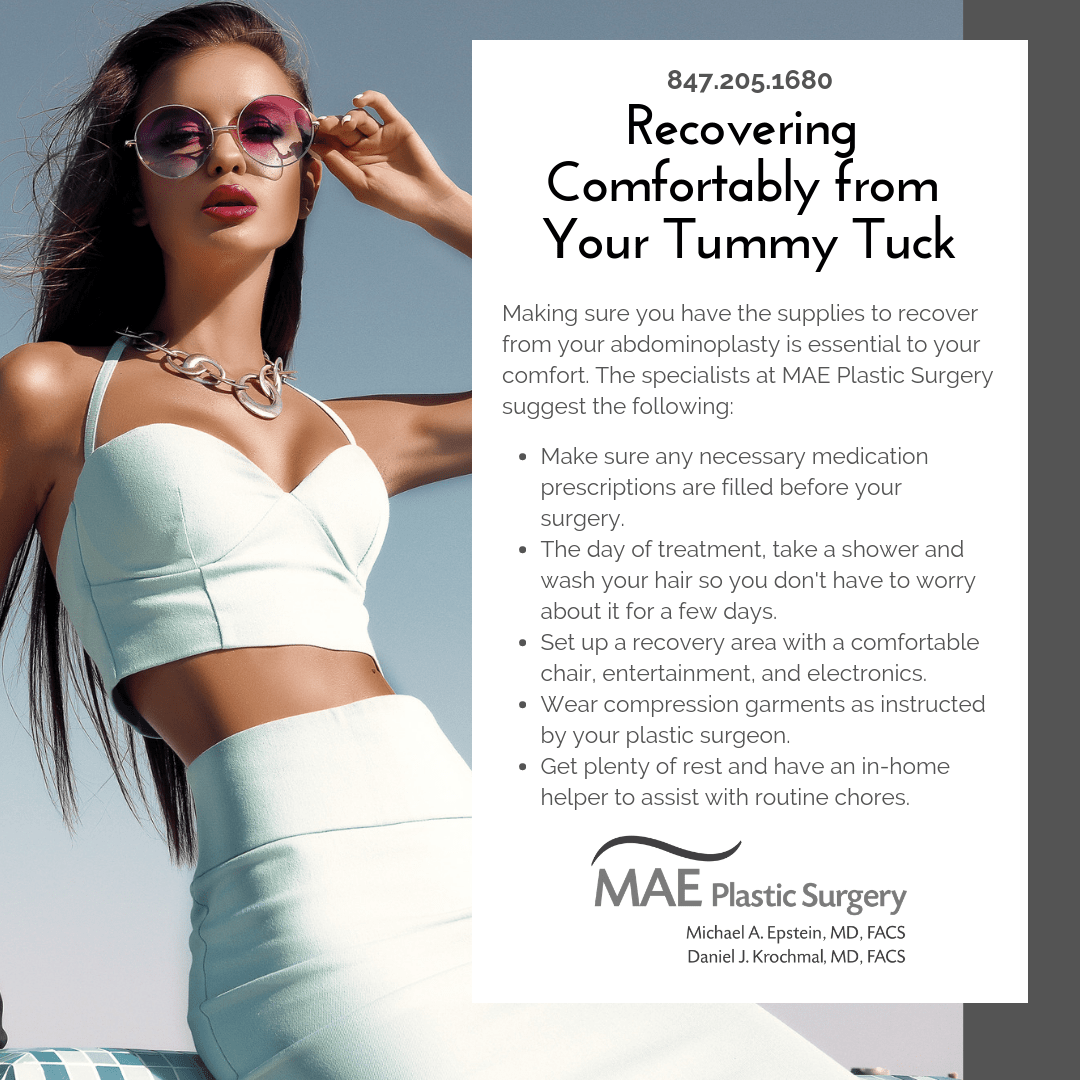 What to Expect During Tummy Tuck Recovery:
Our patients usually stay overnight with us, as we provide one-on-one nursing care to watch over you that first night. Your friends and family can rest comfortably knowing that you are well-cared for by our staff.
We use Exparel® during surgery, a slow-release, non-narcotic pain block that has a three to five-day residual effect, getting you through the initial period of discomfort.
Bruising, swelling, and tightness are normal following your tummy tuck. These symptoms will subside gradually for a few weeks following surgery, revealing your desired results.
Discomfort and tenderness are also normal and controlled with prescribed pain medication.
A compression garment must be worn for 3-4 weeks after surgery to reduce swelling and promote healing.
You may return to light activity like walking around the house the day after surgery.
Most Chicago patients may return to work within two weeks following the procedure.
Incision lines will continue to heal while scarring will fade for a year after surgery.
The results of your tummy tuck are long-lasting, especially if you avoid substantial weight gain, eat right, and exercise regularly.
Picking The Best Plastic Surgeon for Your Tummy Tuck in Chicago
In Chicago, an experienced and thoroughly trained plastic surgeon is of upmost importance in performing your tummy tuck surgery. They must have the right credentials and qualifications including: board-certification, education, and satisfied patients.
Research their standing in the Chicago medical community, as well as the various medical and surgical boards. The support staff should be considered as well, so you are comfortable with the entire staff. Are they friendly, compassionate, and professional?
Above all, meet with the plastic surgeon personally. Also, visit the facility where the surgery will be performed. Is it certified? Is it state-of-the-art? Your decision should not be rushed or hurried. Take your time to make the right choice!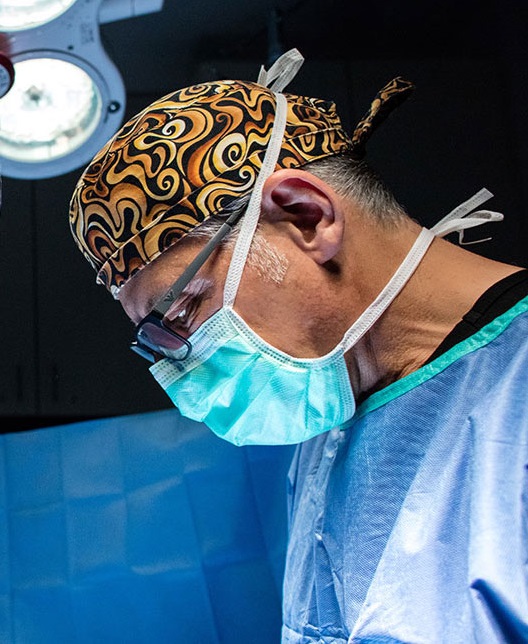 Why MAE Plastic Surgery for Your Tummy Tuck in Chicago
Dr. Michael Epstein is a gifted plastic surgeon who offers various plastic surgery procedures to residents of Chicago, the Chicagoland area, Northbrook and surrounding communities in Illinois. He is an alumnus of University of Michigan and received his medical degree from Wayne State University in Detroit. He trained in general surgery at the Michael Reese Hospital in Chicago and received a fellowship in plastic surgery from Wayne State. He received additional cosmetic surgery training at the Manhattan Eye, Ear, and Throat Hospital in New York, and has an academic position at the University of Chicago's Department of Plastic Surgery.
An active member of the prestigious American Society of Plastic Surgeons, American Society for Aesthetic Plastic Surgery and the Rhinoplasty society, Chicago based Dr. Epstein has received critical acclaim for his advanced techniques in cosmetic surgery.
Our Fully Accredited Surgical Center for Chicago and Beyond – Dr. Michael Epstein performs most of our surgical procedures at our state-of-the-art, fully accredited surgical center in Northbrook. Northbrook Plastic Surgery has a team of board-certified anesthesiologists to provide the highest standard of care and ensuring the safest and most comfortable tummy tuck experience in Chicago.
Northbrook Plastic Surgery is accredited by AAAASF (American Association for Accreditation of Ambulatory Surgical Facilities) which stands alone as the program that sets the Gold Standard for quality patient care and safety. AAAASF serves the medical community and the public interest of Chicago by establishing a means for measuring medical competence and providing an external source for evaluating patient safety in the ambulatory surgery setting.
Not in the Chicago area? Fly in for surgery! Our staff will help you plan your tummy tuck trip. We're confident that you'll find our office, and our staff, warm and inviting.