Less Invasive Body Contouring: BodyTite in Chicago, IL
Sculpt and shape your body without surgery! MAE Plastic Surgery is pleased to offer BodyTite, minimally invasive body contouring, to our patients in Chicago, IL. This procedure combines radio-frequency skin tightening with lipolysis to simultaneously tighten skin and remove fat. Less invasive than traditional liposuction and often producing better results, BodyTite is one of our favorite body transformations.
What Is BodyTite?
BodyTite uses a type of advanced technology known as radio-frequency assisted lipolysis (RFAL). It uses a specialized device that allows us to precisely administer radio-frequency energy, under and above the skin, while removing stubborn fat and tightening the skin. By heating the skin and underlying structures, the tissues are remodeled, creating tighter contours and a better shape. BodyTite is less invasive than many surgical procedures and offers some of the best body contouring results available.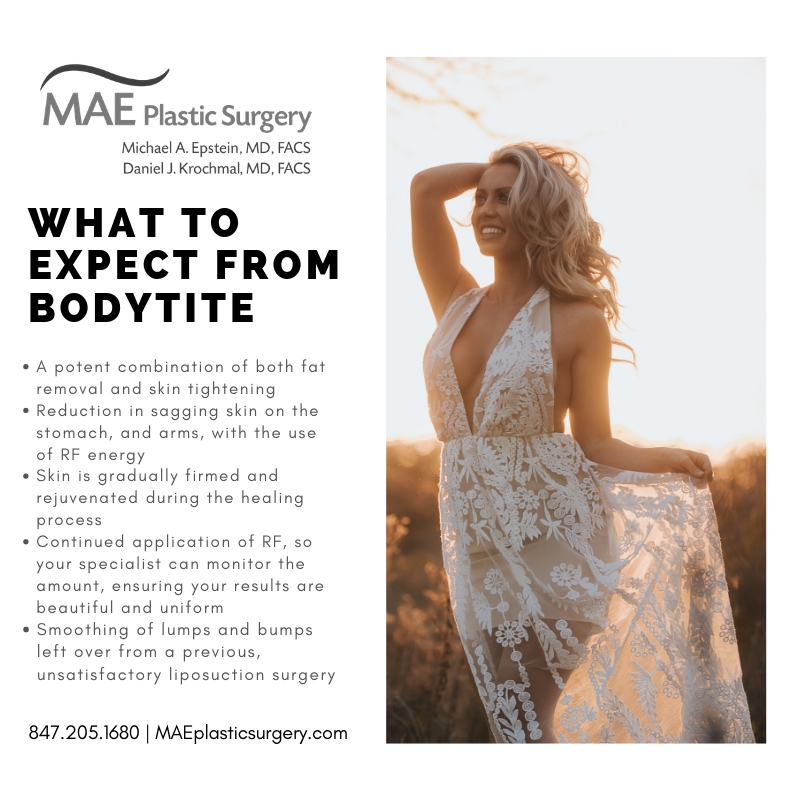 BodyTite vs. Liposuction
Liposuction has been a top treatment for addressing unwanted fat and improving body shape for many years. We still use this powerful treatment and recommend it to many of our patients. However, BodyTite does offer a few unique advantages over liposuction, especially for patients with loose skin.
Liposuction removes fat but does not address skin laxity. Aging skin is often less elastic than youthful skin and may have trouble contracting after a liposuction treatment. Stretched out skin, common after weight loss or pregnancy, also has this problem. The solution is BodyTite. By combining fat removal with radiofrequency, we can shape, sculpt, and tighten with a single procedure.
BodyTite also helps to coagulate blood vessels, which reduces the risk of bruising during and after treatment.
BodyTite in Chicago, IL: What to Expect from Your Procedure
MAE Plastic Surgery offers BodyTite body contouring. Our plastic surgery office and accredited surgical center, Northbrook Plastic Surgery, are located in Northbrook and conveniently serve patients throughout the Chicago area including Evanston and Wheeling. We also offer fly-in treatment options for patients around the country or the world.
BodyTite is performed using local anesthetic. Once the area is prepped and ready for the procedure, the BodyTite device is used to shape and contour treatment areas. This unique device features a long cannula made from a surgical grade metal. It is paired with a radiofrequency probe. The cannula is inserted into the body while the probe remains on top of the skin.
To ensure comfort and safety, we carefully monitor patients throughout treatment. The BodyTite device allows for precise temperature monitoring and control. This ensures that results are even, without areas of over or under treatment. It also prevents damage to skin and surrounding tissues, while ensuring that tissues are properly treated. The device creates the ideal temperature gradient, providing heat where it is needed and comfortable coolness on the skin.
BodyTite requires no large incisions and is an outpatient procedure. Patients return home the same day for recovery.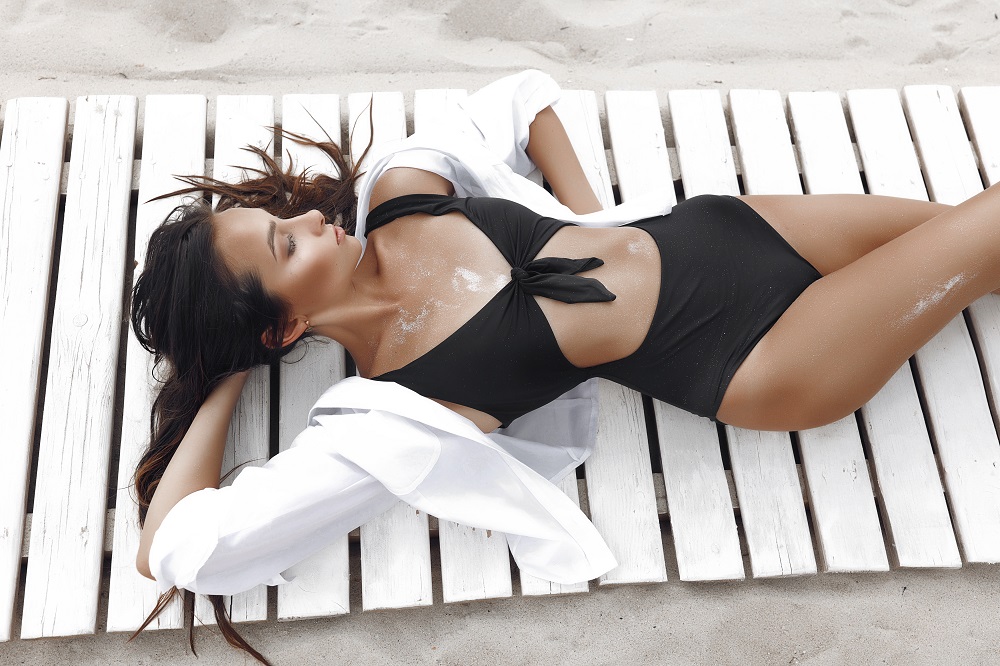 After BodyTite: What to Expect from Recovery
BodyTite is a less invasive body sculpting treatment. Downtime is minimal but some adjustments to your regular schedule will be needed temporarily. We'll give you complete recovery instructions before your treatment so you can prepare. Most patients miss a couple days of work and can safely resume exercise in a few weeks.
Common side effects during recovery from BodyTite include tenderness and swelling. These are temporary and usually resolve quickly.
Patients report an immediate change in the treatment area that continue to improve with time. Results are long lasting. Maintain your look by remaining at a stable weight and taking good care of your skin.
Am I a Good Candidate for BodyTite?
Discover your best curves with BodyTite. If you're interested in learning more about this revolutionary procedure, call our office and schedule a consultation. We would love to discuss this procedure in depth with you and help you decide if you're a good candidate.
BodyTite is ideal for patients that are:
Close to their ideal body weight
Struggling with stubborn fat pockets
In need of skin tightening or have poor skin elasticity
Seeking to shape and contour specific body areas: abdomen, thighs, hips, waist, arms, etc.
We never recommend treatments that aren't a good fit. BodyTite isn't right for everyone. After discussing goals and examining your body, we'll make treatment recommendations. If BodyTite will meet your goals, we can take the next steps and schedule your procedure. If not, our board-certified surgeon will recommend other options like tummy tuck surgery or arm lifting.
Learn more about BodyTite in Chicago, IL by calling MAE Plastic Surgery at 847-205-1680. Our board-certified plastic surgeon, Dr. Michael Epstein is available for consultations and can answer any questions you may have. Discover natural looking curves, tighter skin, and less downtime with BodyTite.