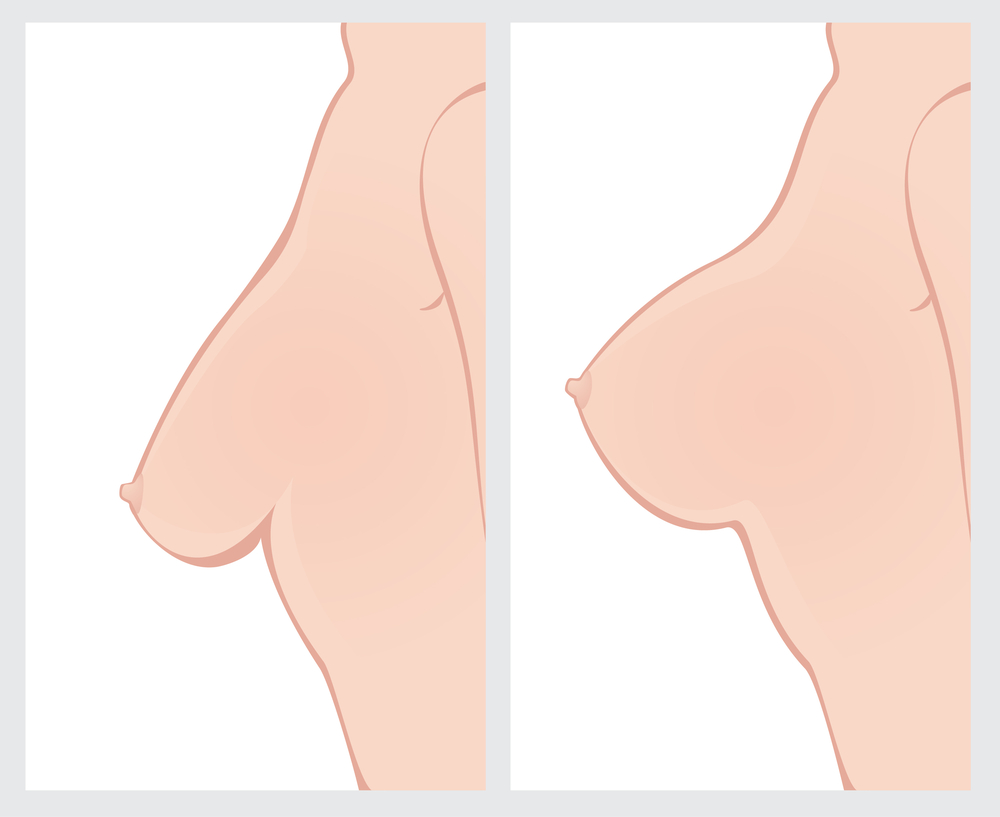 Women seeking a breast lift in Chicago often look to the skilled hands and artistic eyes of Dr. Michael Epstein. From their office in Northbrook, they have treated many women who desired a more firm and uplifted bust line in Chicago, including the surrounding areas of Buffalo Grove and Evanston, IL.
What is Mastopexy?
A mastopexy (commonly referred to as a breast lift) is a surgery that lifts and improves the shape of the breasts. As women age, lose or gain weight, have children, or if they have poor skin tone, their breasts tend to lose fat, and the breast tissue begins to thin. When the breast tissue shrinks, unfortunately the skin does not, and the areola and nipple drops down below the breast crease. Many women in Chicago feel less sexy with drooping breasts, which is why they opt for Mastopexy surgery.  A breast lift will move the nipple above the crease and restore a more youthful look to the breasts.
Dr. Epstein performs many different breast lift techniques in Chicago. He will discuss the various options available to you during your one on one consultation at his Northbrook office.  If you also desire to get fullness back, you may want to consider combining the lift with a breast augmentation. If you want to reduce the fullness, you may decide to have a breast reduction in combination with the lift. Be sure to ask about the various options available to you.

Before & After Gallery
Be sure to view our Before and After Photo Gallery of breast lift procedures to see real patient results at MAE Plastic Surgery.

Click Here
How is a Breast Lift performed in Chicago?
A breast lift is an outpatient surgical procedure performed at our facility that aids patients looking for plastic surgery in Chicago. There are many variations that can be used for a breast lift. The most common technique is a lift that utilizes three incisions: one around the areola, another vertically down from the areola to the breast crease, and the last one follows the horizontal breast crease. Through these incisions, excess skin is removed from the lower portion of the breast, lifting and reshaping breast tissue to improve contour and firmness. The breast tissue and nipple are lifted into a higher position, giving a more youthful appearance. During the Chicago procedure, enlarged areolas can be reduced by excising the skin around the edge.
Other options include making an incision around the areola with or without a vertical incision, which results in less scarring, or to just circle around the areola. Both of these options can be discussed with Dr. Epstein and can determine which technique would be best suited for you.  The procedure takes approximately two hours, but may vary depending on the complexity of the lift.
What to expect during the recovery period:
Immediately after surgery, you may experience swelling, discomfort, bruising and tenderness, all of which are easily controlled with oral medication.
A sports bra must be worn for the first 2-4 weeks following surgery.
You can return to light activity within 2 days after surgery, or as you feel ready.
Most patients return to work within the first week after surgery.
Full physical activity may resume within 4-6 weeks after surgery.
Incision lines will continue to heal and refine for 1 year after surgery.
Schedule your Chicago Breast Lift consultation
If you are ready to see if a breast lift is right for you, give our Northbrook office a call today to schedule a consultation with board certified plastic surgeon Dr. Epstein.  He services patients for breast lift surgery from all over Chicago, IL and his office is just 8 Miles East of Wheeling and 4 miles South of Highland Park, IL.  Call today to meet one on one with Dr. Epstein.