One of the most common questions women have when considering breast augmentation in Chicago is whether to choose saline-filled or silicone gel breast implants. Both are good options when used properly, and for both types of implants, women tend to be very happy with the results. During your consultation with Dr. Epstein, part of the discussion will focus on which implant is the best choice for you. Some things to consider when making the choice of implants include

Before & After Gallery
Be sure to view our Before and After Photo Gallery of breast augmentation procedures to see real patient results at MAE Plastic Surgery.

Click Here
Types of Breast Implants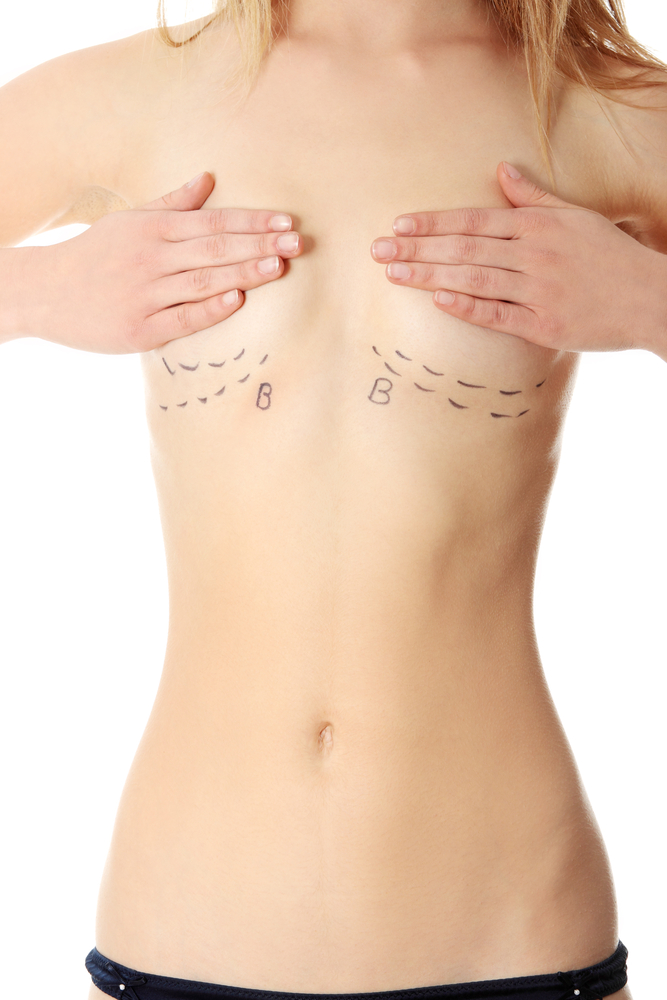 Two types of implants are approved by the FDA: saline and silicone. The basic difference between the two is the type of material that's inside each one. Saline implants contain a solution of sterilized salt water, while silicone implants contain a silicone gel. Most patients and plastic surgeons agree that silicone gel implants result in more natural-looking and feeling breasts.
What is the difference between the different types of implants?
Both types of breast implants have an outer shell made of a soft silicone polymer. Saline-filled implants are placed inside the breast, and then filled with sterile saline (salt water) until the desired size range is reached. Silicone gel implants are prefilled with a silicone gel material that cannot be changed in size.
What are High Profile Breast Implants?
Breast implants come in a few different shapes which have variable amounts of projection (the amount of forward fullness the implant provides). Based on their personal experience with over 1000 breast implant procedures, and by using the Vectra 3D imaging system, Dr. Epstein can help you pick the right implant size and shape for your breast proportions.
Can I See What I Would Look Like with Breast Implants?
Dr. Epstein is among a select group of Chicago plastic surgeons who can show you a simulated 3D image of what you would look like with breast implants. By using our Vectra 3D imaging system, you can virtually "try on" different sized and shaped implants on a 3D image of your body to get a better idea of the results that are possible.
"Feel" of the Implant
Silicone gel implants tend to feel more natural and breast-like and, therefore, are preferred by many plastic surgeons and patients. While the final "feel" of the breast depends on many factors, a breast enlarged with a silicone-gel implant will tend to feel more natural, particularly in a woman with little natural breast tissue (for example, an A cup or small B cup). Thinner women may also prefer a silicone gel implant for the same reason. For women with more breast tissue and who desire a modest increase in breast size, saline-filled breast implants may be a good choice.
Breast Implant Removal & Revision
What is Implant Rippling?
In thin women, the edge of the implant may sometimes be felt on the side and lower part of the breast. This may feel like "unevenness" under the skin. In more severe cases, or when very large implants are used, the implant edges may cause ripples to be seen under the skin. Rippling is less likely to happen with silicone gel implants.
What Cost Is Associated with Breast Implants?

Silicone gel implants are more expensive due to added production costs. While cost may be a factor in deciding the type of breast implant, it is important to consider the overall final result provided by saline-filled and silicone gel implants when making your decision.
What About Scars?
Both types of implants may be placed through a small opening under the breast (inframammary), below the nipple (periareolar), or through the armpit (transaxillary). Only saline-filled implants can be placed through the belly button (transumbilical, also known as TUBA). Dr. Epstein typically recommends the placement to be done through the inframammary approach, as it has been shown to have a lower risk of internal scar formation called capsular contracture. In some cases, a very large silicone gel implant can be difficult to place through a periareolar or transaxillary approach, and may result in a larger scar than if a saline-filled implant was used.
Implant Breakage
Since no medical device is considered permanent, at some point the outer shell of a breast implant may break. This is unlikely to happen within the first ten years after placement, but may happen at any time. When a saline-filled implant breaks, the salt water inside is absorbed by the body and the breast returns to its original (smaller) size over a few days. The implant is then typically replaced by a new implant during a procedure that typically has little discomfort and a very fast recovery. It is less clear when a silicone gel implant breaks; when it does, the breast typically does not become smaller. As an added assurance to patients, the breast implant manufacturers offer warranty programs in case the implants break. Current recommendations by the U.S. Food and Drug Administration (FDA) encourage women to have MRI examinations of their implants after 3 years, and every 2 years thereafter, to see if there is any break in the shell.
The Procedure
Before having breast implant surgery, Dr. Epstein will meet with each patient to discuss the options and determine the look that a patient is trying to achieve. By doing so, they will be able to come up with a surgical plan that is most suitable.
Inserting the Breast Implants
Breast implants can typically be inserted using sedation anesthesia but general anesthesia can be used if a patient desires. An incision is made underneath each breast and a space is created for the implant. Once the implants are properly in place, the incision will be closed and then light gauze is applied. The patient is then taken to a recovery area where she will be monitored for one to two hours before going home.
Considerations
Women who have breast implants need to have regular mammograms performed just like women without implants. Occasionally, additional mammogram views may need to be done to image all the breast tissue.
Breastfeeding can normally be accomplished after having breast implants; however, it is impossible to predict how these implants will affect a mother's ability to breastfeed until she is ready to do so. Dr. Epstein can offer a surgical technique that does not affect the breast tissue and therefore not interfere with the ability to breast feed.
Breast implants generally maintain the size and shape of the breast but they do not stop the aging process. Changes in weight may also affect the results and at times additional procedures may be considered. Implants may need to be replaced if they break or leak.
Potential Complications
As with all other surgical procedures, especially those that involve placing a man-made device inside the body, there is a small amount of risk. Both saline-filled and silicone gel implants have similar risks. However, in rare cases, a broken silicone gel implant may cause pain and swelling in the area around the break.
The final choice of implant type depends on your current breast size and shape, and your desired outcome. It is important to consider your personal body and breast characteristics, as well as the other factors involved in breast enlargement. Dr. Epstein helps guide patients through these options and will help you make the best choice during a one on one consultation at his Northbrook office.