The first and most important decision women have when considering a breast augmentation in Chicago is the type of implant to use. Saline or silicone-filled breast implants are great options for creating safe and stunning breast augmentation outcomes. During your consultation, your MAE plastic surgeon will discuss the benefits and the risks associated with each type of breast implant, and with your input, decide on the optimal implant.
It is important that you contribute to the consultation, so do your homework. Become familiar with each type so you have at least a basic understanding and you can be informed enough to substantially contribute to the decision. Your MAE surgeon will listen to you, make his recommendations for your goals and body type, and explain why. It is important that you and your surgeon are on the same page with your aesthetic goals and process so that you can achieve the look you desire. The purpose of this page is to provide you with some basic knowledge to help you understand breast implants.
Before & After Gallery
Be sure to view our Before and After Photo Gallery of breast augmentation procedures to see real patient results at MAE Plastic Surgery.
Click Here
Types of Breast Implants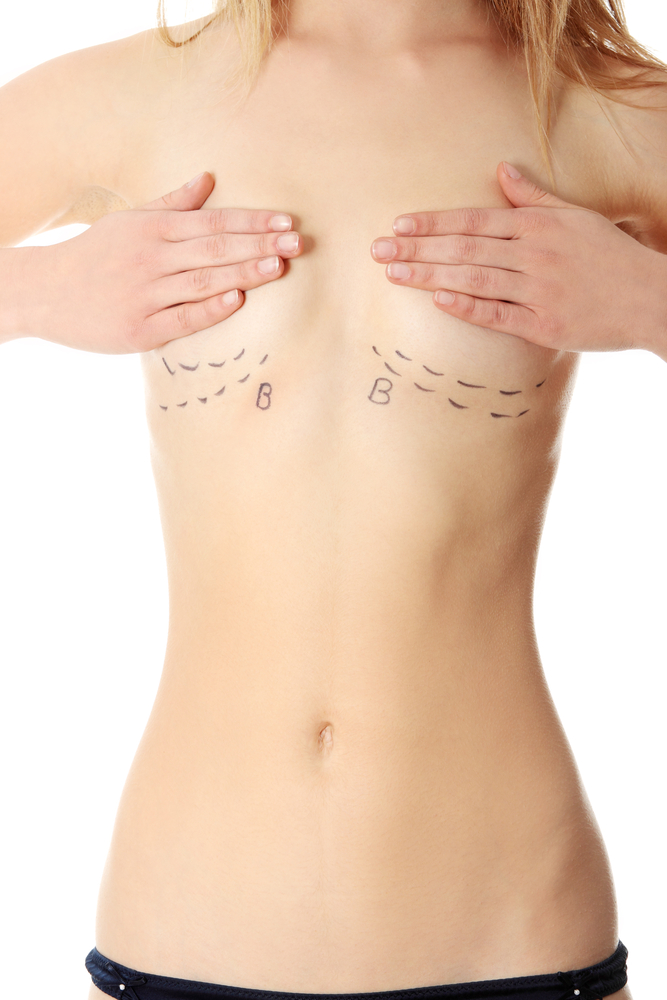 Saline breast implants – are silicone shells filled with a sterilized salt water solution. These breast implants are inserted deflated and then filled. This requires a smaller incision which reduces the appearance of scars. They are the least expensive type of breast implant.
Structured Saline implants – there is now a new, FDA approved, version of saline implants, called "Ideal implants", and they are double lumened with baffles which give them more support than regular saline implants. This allows them to feel closer to the more natural feel of a gel implant and ripple less than regular saline. This could be a great compromise for those patients that have reservations about silicone and want to avoid the pitfalls of regular saline implants. As for now they are more expensive than most of the other implants and they only come in higher projecting round versions.   
Silicone breast implants – are silicone shells filled with silicone. Most women believe these have a more natural feel. They are inserted already filled, so they require a larger incision and lead to a bigger scar. They tend to cost more than saline breast implants.
Form stable breast implants – are silicone breast implants also known as "gummy bear" implants. The silicone is of a thicker volume than their first-generation counterparts, making them firmer and less likely to rupture. Their shape is more natural, projected at the bottom and tapered at the top.
What is the difference?
All types of breast implants have an outer shell made of a soft silicone polymer. Saline-filled implants are placed inside the breast and then filled with sterile saline (salt water) until the desired size range is reached, this way some minor adjustments to the resultant size can be made on the table.  Silicone gel implants are prefilled with a silicone gel material that cannot be changed in size. This may be important for those women that have slightly more than subtle differences between their two breasts, and yes, a smaller insertion incision can also be made.  
Breast Implants – Shape
Round and teardrop (anatomic) are the two basic shapes available for breast implants.
Round breast implants – are often preferred by plastic surgeons because they're easier  to insert and position in the surgical pocket. While it is rare for a shaped implant to rotate, this too, can be a perceived benefit for a round implant.
Teardrop (anatomic) breast implants – have a more natural shape. These shapes are popular with patients whose breasts have suffered from pregnancy, breast feeding, massive weight loss or those that are just extremely small breasted. In these cases, the teardrop provides a woman with the breast shape that they are missing.  Teardrop implants have come a long way since their initial form.  Texturing has been added to greatly reduce the risk of rotation, which was the main problem with teardrop implants of the past.
What are High Profile Breast Implants?
Breast implants come in different shapes and variable amounts of projection (the amount of forward fullness the implant provides). With their experience of over 1000 breast implant procedures, and by using the Vectra 3D imaging system, your MAE surgeon can help you choose the right implant size and shape for your breast proportions and body type.
Can I See What I Would Look Like with Breast Implants?
MAE Plastic Surgery is among a select group of Chicago plastic surgeons who can show you a simulated 3D image of your appearance with breast implants. By using our Vectra 3D imaging system, you can virtually try on different sizes and shapes of implants on a 3D image of your body for a better idea of the results possible.
Feel of the Implant
Silicone gel implants tend to feel more like the natural breast and are preferred by many plastic surgeons and patients. While the feel of the breast depends on many factors, a breast enlarged with a silicone-gel implant will tend to feel more natural, particularly in women with little natural breast tissue (an A cup or small B cup). Thinner women may also prefer a silicone gel implant for the same reason. For women with more breast tissue and who desire a modest increase in breast size, saline-filled breast implants may be a good choice.
Breast Implant Removal & Revision
There are times when breast augmentation surgery is not done correctly, an older breast implant needs replacing, or a less than optimal breast implant was chosen. In these cases, a revision surgery may be necessary. MAE Plastic Surgery has extensive experience in breast implant removal and revision. Please watch the video below as Dr. Epstein walks you through a revision surgery.
What is Breast Implant Rippling?
For thinner women, the edge of the implant may sometimes be felt on the side and lower part of the breast. It may even feel uneven under the skin. In more severe cases, or when large implants are used, the implant edges may cause ripples to be seen under the skin. Rippling is less likely to happen with silicone gel implants.
What Cost Is Associated with Breast Implants?
Silicone gel implants and the new "Ideal" structured saline implants are more expensive due to added production costs. While cost may be a factor in deciding the type of breast implant, it is important to consider the result provided by saline-filled and silicone gel implants when making your decision.
The cost of your breast implant procedure is determined by many factors including body type, desired outcome, and implants chosen. During your consultation, you will receive a detailed cost assessment.
Contact us today for your breast implant consultation in Northbrook, call 847-205-1680.  See why people from all over the Chicagoland area come to MAE Plastic surgery. 
What About Scarring?
All types of implants may be placed through a small opening under the breast (inframammary), below the nipple (periareolar), or through the armpit (transaxillary). Your MAE Plastic surgeon will typically recommend the inframammary incision placement because it has a lower risk of internal scar formation—also known as capsular contracture. It is easier to position the implant more accurately and there is less of a chance of numbness to the nipple. In addition, when a very large silicone gel implant is used it may be too difficult to place through a periareolar or transaxillary approach.  
Breast Implant Breakage
While these devices are meant to be lifelong, at some point the outer shell of a breast implant may break. This is unlikely to happen within the first ten years after placement, but may happen at any time. When a saline-filled implant breaks, the salt water inside is absorbed by the body and the breast returns to its original (smaller) size over a few days. The implant is then typically replaced by a new implant during a procedure that typically has little discomfort and a fast recovery.   It is less clear when a silicone gel implant breaks; when it does, the breast typically does not become smaller. As an added assurance to patients, the breast implant manufacturers offer warranty programs in case the implants break. Current recommendations by the U.S. Food and Drug Administration (FDA) encourage women to have MRI examinations of their implants after 3 years and every 2 years thereafter to see if there is any break in the shell.
The Breast Implant Procedure
Unless breast augmentation is combined with other surgery that requires an overnight stay, it is usually an outpatient procedure. You will receive monitored sedation anesthesia care and the surgery for breast augmentation alone, is usually one hour long.  
During surgery, incisions are made in a strategic way that when they are healed they are very discreet and barely noticeable. A small pocket will be created for the implant between the pectoral muscle and the breast tissue or underneath the pectoral muscle. The implants will be positioned within the pocket and the incision is closed with precision. A support garment will be placed around the breasts to help hold the implant in position and minimize bruising and swelling.
Breast Implants Recovery
You can expect soreness, swelling, bruising, and changes in nipple sensation for a short period. Most women return to normal activities in just a few days, although strenuous activities should be avoided for a few weeks.
After several weeks, the breast implants will settle into place and soften. The final positioning of your new breasts may take up to three months.
Post-surgery appointments will be scheduled for follow-up care at prescribed intervals so your progress can be evaluated.
Considerations
Women who have breast implants need to have regular mammograms performed just like women without implants. Occasionally, additional mammogram views may need to be done to image all the breast tissue.
Breastfeeding can normally be accomplished after having breast implants; however, it is impossible to predict how these implants will affect a mother's ability to breastfeed until she is ready to do so. Dr. Epstein and Dr. Krochmal can offer a surgical technique that minimizes any untoward effects on breast tissue and therefore decrease the likelihood of interfering with the ability to breastfeed.
While breast implants generally maintain the size and shape of the augmented breast over time, they do not stop the aging process of the breast tissue itself.   Changes in weight may also affect the results over time and additional procedures may be considered to maintain aesthetically pleasing breasts.  
Potential Complications
As with all other surgical procedures, especially those that involve placing a man-made device inside the body, there is a small amount of risk. Breast augmentation surgery has a particularly low complication rate probably because it is a relatively shorter procedure usually performed in young healthy women.  
The final choice of implant type depends on your current breast size and shape and your desired outcome. It is important to consider your personal body and breast characteristics as well as the other factors involved in breast enlargement. Dr. Epstein and Dr. Krochmal help guide patients through these options and will help you make the best choice during a one on one consultation at their Northbrook office.
Choosing your Chicago Breast Implant Surgeon
Having breast implant surgery in Chicago is not a small decision. It includes many factors with the choice of surgeon being the most important. When it comes to considering a surgeon, you must be informed about their qualifications and experience. Is your surgeon board-certified? What is their level of experience? Where will the surgery take place? What about the support staff, are they caring and professional?
Why MAE Plastic Surgery?
Both MAE surgeons are highly trained and experienced with breast implant surgery. Please visit the personal profile pages of Dr. Michael Epstein and Dr. Daniel Krochmal.
Dear Dr. Epstein – As the anniversary of my surgery past in December, I just really wanted to say from the bottom of my heart how amazing you and your staff are. Thank you for changing my life in a way that no one could ever do. Not a day goes by where I don't stop to think about how blessed I am. You are my hero. ~ More reviews…
Our Fully Accredited Surgical Center for Chicago and Beyond – Our MAE surgeons perform our surgical procedures at our state-of-the-art, fully accredited surgical center in Northbrook. Northbrook Plastic Surgery has a team of board-certified anesthesiologists to provide the highest standard of care and ensuring the safest and most comfortable experience in Chicago. Read more…
Contact us today for your Chicago breast implant consultation call in Northbrook, 847-205-1680
Before & After Gallery
Be sure to view our Before and After Photo Gallery of breast augmentation procedures to see real patient results at MAE Plastic Surgery. CLICK HERE
Related Procedures
Breast Augmentation           Breast Lift            Breast Reduction              Mommy Makeover